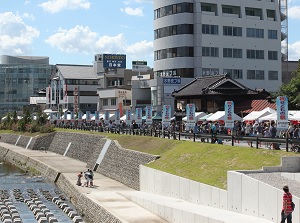 Setomono Festival along Seto River
Photo by Seto City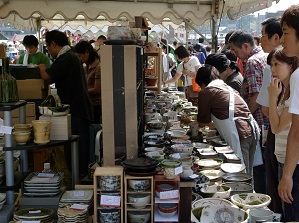 Setomono Festival
Photo by Seto City
Seto is a city located about 20 km east-northeast of Nagoya city.
This area produces good clay for pottery.
Since the 11th century, pottery and porcelain have been made here.
Seto's pottery was the Japan's first glazed one.
That is called Setomono.
The potteries and porcelains have been used across the country.
The word "setomono" has become synonymous with common pottery and porcelain.
The ceramics industry in Seto was at its peak in the middle of the 20th century.
The city became a satellite town for commuters of Nagoya, and the factories and workshops of ceramics industry have been decreasing.
Now whole Seto city is introducing the ceramics as a museum.
On second Saturday and Sunday in September, Setomono Festival.
It is the Japan's greatest market of ceramic ware, and we can buy them very cheaply.
For two days, more than 500 thousand people visit here.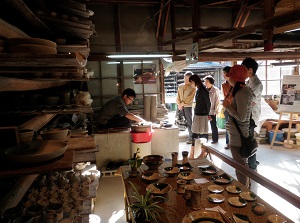 Pottery in Seto
Photo by Seto City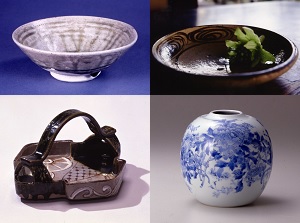 Setomono
Photo by Seto City
Seto River flows through the city from east to west.
The clay for pottery is gathered in the northen hill.
The city is in the valley and the main area is around the river.
Owari-Seto terminal station of Meitetsu railway is at the west part of the city.
There are many Setomono shops by the streets along the river for about 1 km.
That is the attractive scenery of the city.
In the city, there are some other spots about Setomono.
Setogura (
瀬戸蔵

)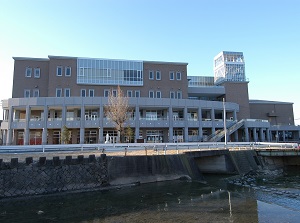 Setogura
Photo by Seto City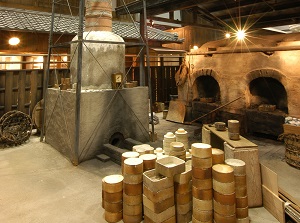 Kiln of Setomono in Setogura
Photo by Seto City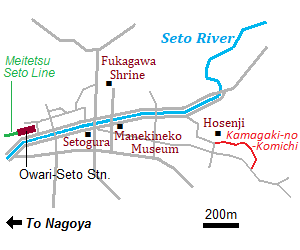 Setogura is a tourist facility and is located about 250 meters east of Owari-Seto station.
There is Setogura Museum on the 2nd and 3rd floors.
It introduces the production process and history of Setomono.
The model of kiln to make Setomono is in the floor.
And there is Setomono shop and a cafe on the 1st floor.
Manekineko Museum (
招き猫ミュージアム

)

Manekineko Museum is a private museum exhibiting thousand of "manekineko".
It is located about 300 meters east of Setogura.

Manekineko is an ornament of beckoning cat and is popular as a lucky charm for a prosperous trade.
Recently, it has been popular with foreign tourists.

It is said that the origin was in Gotokuji temple in Tokyo.
And Tokoname city in Aichi Prefecture is the top producer and Seto is the following producer.

This museum was opened in 2005, and is the largest museum of Manekineko in Japan.
It is closed on Tuesday and from December 29 to January 4.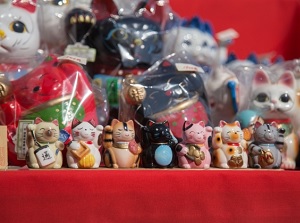 Manekineko shop in Seto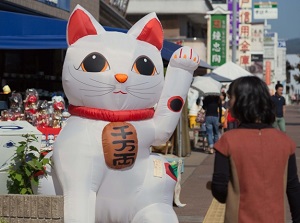 Kuru-Fuku Manekineko Festival in Seto
Next to this museum, there is a shop of Manekineko.
By the way, Kuru-Fuku Manekineko Festival is held in this city on Saturday and Sunday around September 29.
For two days, various events about Manekineko are held and a lot of Manekineko are seen in the city.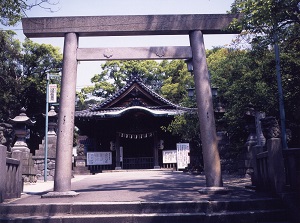 Fukagawa Shrine
Photo by Seto City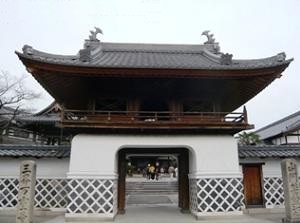 Hosenji
Photo by Seto City
Fukagawa Shrine (
深川神社

)

Fukagawa Shrine ("Fukagawa Jinja" in Japanese) is a Shinto Shrine, and is located about 300 meters northeast of Setogura.

It is said that this shrine was founded in 771.
The main shrine was built around the 1810s.

It is said that Tôshirô (formally, Kato Kagemasa. 1168?-1249?) was the founder of Seto pottery.

He was traveling around Japan, and he heard an oracular message that there is good clay nearby in this shrine.
So he found the clay and started to make the pottery in Seto in 1242.

In the treasure house, there is a Komainu (Shrine guardian dog statue) which Toshiro created.
Hôsenji (
宝泉寺

)

Hosenji is a Buddhist temple located about 900 meters east of Setogura.

It was founded in 1252, but was destroyed by fire in 1596.
Then, it was restored in 1648.

This temple is a little unique.

The main gate has a bell tower is on the second floor.

There are ceramic Buddha statues in the main temple.
And the ceiling painting was drawn by the pottery workers.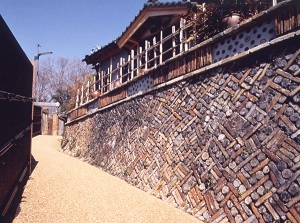 Kamagaki-no-Komichi
Photo by Seto City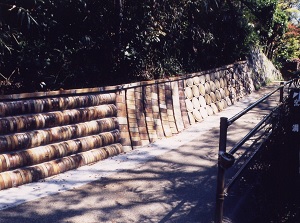 Kamagaki-no-Komichi
Photo by Seto City
Kamagaki-no-Komichi (
窯垣の小径

)

Kamagaki-no-Komichi is a narrow street about 400 meters long and is the most popular spot in Seto.
The starting point is near Hosenji temple.

Many unneeded parts of pottery are embedded into the fences and walls along the street.

By the street, there is Kamagaki-no-Komichi Museum and Gallery.
It is a former house of pottery in the 19th century, and the tools and works at that time are displayed.
How to get here
From Sakae in central Nagoya, about 38 minutes by Seto Line of Meitetsu railway.
Hotels in Seto
Other Tourist Attractions in Aichi Prefecture