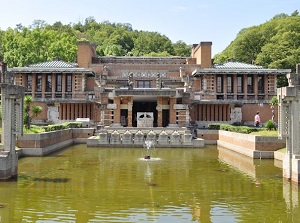 Imperial Hotel (Tokyo, 1923)
Photo by Railstation.net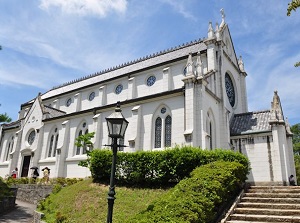 St.Xavier Catholic Church (Kyoto, 1890)
Photo by Railstation.net
Meiji-mura is an open-air museum and theme park that many constructions created in Meiji Period (1868-1912) are gathered.
It is located about 7 km southeast of Inuyama city.
"Meiji-mura" means "Village of Meiji".
Meiji was the period after the end of feudal samurai nation.
Japan was constructing a modern state with learning the advanced political and social system, technologies and cultures from Western countries.
So many western-style buildings had been built across the country.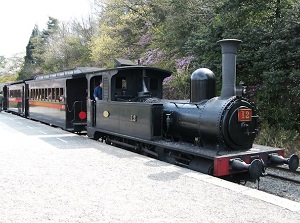 Steam locomotive (1874)
Photo by Railstation.net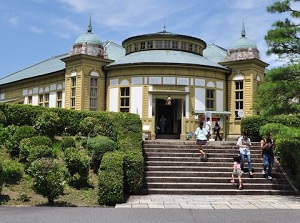 Uji-Yamada Post office (Ise, 1909)
Photo by Railstation.net
But the economic growth in the 1960s had been renewing all of Japan.
Old unused buildings were demolished one after another.
This museum was built to preserve such constructions with historical value by Nagoya Railway company in 1965.
At that time, there was only 15 constructions.
After that, valuable constructions have been added gradually.
Now, there are 67 constructions in this museum.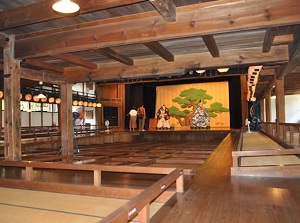 Gofukuza theater (Osaka, 1892)
Photo by Railstation.net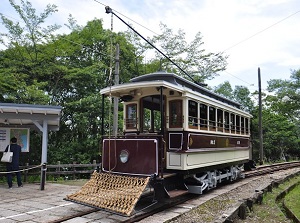 Streetcar of Kyoto (1911)
Photo by Railstation.net
The constructions have many varieties, such as hotel, post office, hospital, school, church, common house, playhouse, lighthouse, bridge and so on.
And old streetcar of Kyoto and two old imported locomotives run with passengers in this museum.
Most of this constructions are designated as national important cultural properties.
The site is on the lakeside of Lake Iruka-ike, and is about 1.2 km from north to south and about 0.2 to 0.4 km from east to west.
The constructions are arranged like a village.
So, this museum is sometimes used as a shooting place for TV drama of Meiji Period.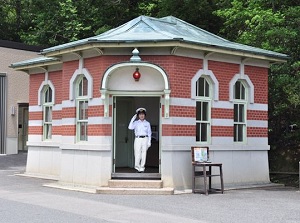 Koban (Police box) in Kyoto (1912)
Photo by Railstation.net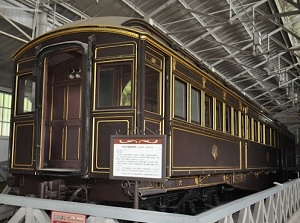 Emperor's train (1910)
Photo by Railstation.net
The visitors can enter many of the constructions.
The restaurants and cafes in this park serve the menu which was popular in Meiji Period.
And there is the service that we get our photo taken with wearing Western clothes (dress or student wear) in Meiji Period.
How to get here
By limited express of Meitetsu Railway, get off at Inuyama station.
By route bus, about 20 minutes from Inuyama station.
Or, by express bus, about 1 hour 15 minutes from Meitetsu Bus Center near Nagoya station, about 1 hour from Sakae in the center of Nagoya.
Hotels in Inuyama city
Other Tourist Attractions in Aichi Prefecture