Toyokawa Inari temple [
豊川稲荷

]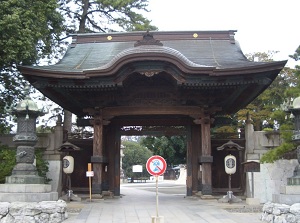 Main gate of Toyokawa Inari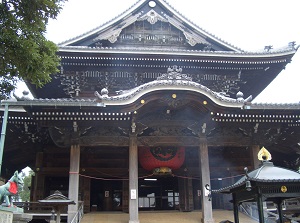 Main temple of Toyokawa Inari
Toyokawa Inari is a Buddhist temple of Soto school of Zen Buddhism.
It is located at the center of Toyokawa city.
Toyokawa city is at the southeast part of Aichi Prefecture and about 7 km north of Toyohashi city.
The formal name is Myôgonji (妙厳寺), but it is known familiar to most people as "Toyokawa Inari".
Inari is a goddess for agriculture and foods in Shinto, Buddhism or Hinduism, and fox has been the messenger of Inari goddess in Japan.
So, there are a pair of stone-carved guardian foxes in front of the shrine and temple.
As above, it is originally a goddess of agriculture, but people understand that it is a goddess of business now.
So many businessmen and merchants visit here.
Every year, over 1.3 million worshippers visit this temple for three days in the New Year period.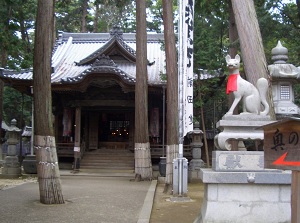 Okunoin temple in Toyokawa Inari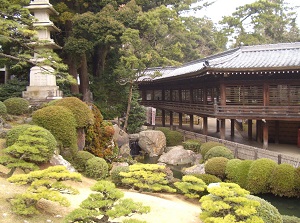 Japanese garden in Toyokawa Inari
This temple was founded as a Buddhist temple in 1441.
Basically, Buddhist temple enshrines Buddha, but this temple enshrined Inari goddess.
Therefore, even though it is a Buddhist temple, there are some "Torii gate" for Shinto shrine in the precincts.
There are many buildings as a Buddhist temple.
Most of them were rebuilt from the 19th century to the eatly 20th century.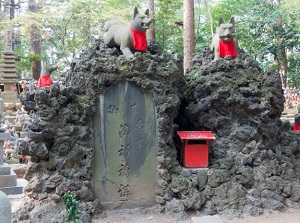 Reikozuka in Toyokawa Inari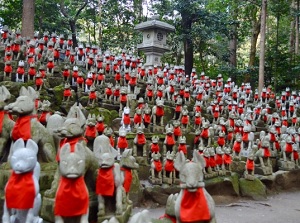 Reikozuka in Toyokawa Inari
After all, there are countless fox statues in this temple and we can find them throughout the site.
Especially, in Reikozuka (霊狐塚) at the edge of the site, over 1,000 fox statues are enshrined.
And, along the approaches between the main temple and Reikozuka, a lot of flags are put up.
They are called Senbon-Nobori (千本幟), and have been dedicated by the believers from all over the country.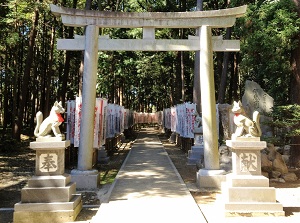 Senbon-Nobori in Toyokawa Inari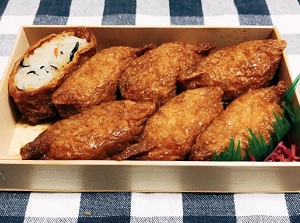 Inari-zushi in Toyokawa
By the way, it is said that fox likes Inari-zushi (稲荷寿司).
Inari-zushi is a sushi that vinegared rice is filled into abura-age (deep-fried tofu) boiled with sweetened soy sauce.
Around Toyokawa Inari, inari-zushi has been sold since old times.
It is cheap and tasty.
How to get here
From Meitetsu-Nagoya to Toyokawa-Inari station, about 1 hour and 10 minutes by express of Meitetsu railway.
Or, from Toyohashi station of Tokaido Shinkansen to Toyokawa station, about 13 minutes by local train of JR Iida Line.
Then, about 350 meters walk from both stations.
Hotels in Toyokawa city
Other Tourist Attractions in Aichi Prefecture