Fuji Safari Park [
富士サファリパーク

]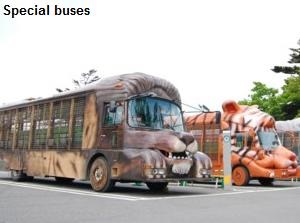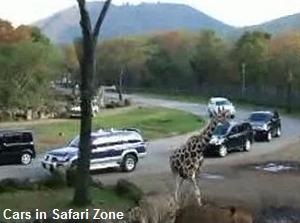 Fuji Safari Park is a zoo that visitors can observe the wildlife of animals by bus or car.
It is located at the south foot of Mount Fuji and about 15 km west of Gotenba city and about 20 km north-northwest of Mishima city.
The safari park was opened in 1980.
It has the largest area among all safari parks in Japan.
It has two zones.
One is "Safari Zone", and we can see the wild animals in our own vehicle or a special bus.
In this zone, we can see bears, lions, tigers, cheetahs, elphants, giraffes, zebras and other various animals.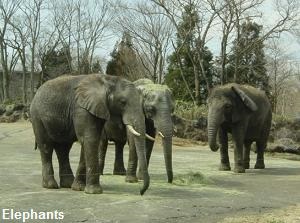 Another is "Fureai Zone", and we can pet many gentle and lovely animals.
In this zone, we can meet kangaroos, meerkats, rabits, ponies, sheep and other small animals.
And there are "Cats House" and "Dogs House" in this zone.
In addition, "Night Safari" are held for a limited period only.
In the evening, we can visit the Safari Zone.
The periods are from late April to early May (Golden week), from late July to late August (Student's summer vacation), and some holidays in September.
How to get here
By route bus, about 35 minutes from JR Gotenba station, or about 55 minutes from Mishima station of Tokaido Shinkansen.
From Gotenba station, the route bus is operated several times in the morning. From Mishima, the route bus is operated several times in the morning only during the period of student's summer vacation but is operated once only past 9:00 in the other period.
Hotels around Gotenba
Other Tourist Attractions around Mount Fuji
Other Tourist Attractions in Shizuoka Prefecture
Around Izu Peninsula
Around Shizuoka city
Western area