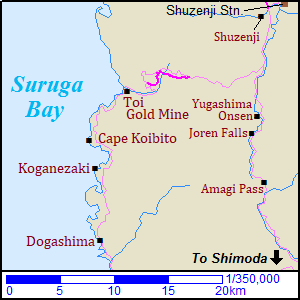 West coast of Izu Peninsula faces Suruga Bay.
The area is mountainous and small inlets are dotted along the coastline.
There are some sightseeing spots in this area.
Because this area faces west, we can enjoy the beautiful view of sunset.
Only main road is National Route 136, and runs along the coastline.
This area has no railroad.
To visit this area, you must use route bus or rental car.
Main point of departure is Shuzenji.
Toi Gold Mine (
土肥金山

)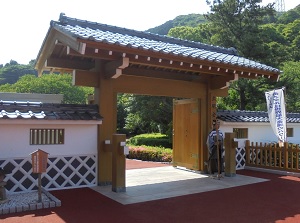 Entrance of Toi Gold Mine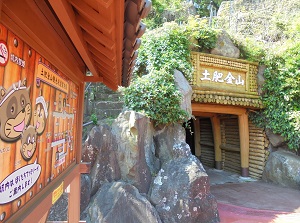 Entrance of tunnel in Toi Gold Mine
Toi Gold Mine is a ruin of gold mine.
It is located near Toi district located about 15 km southwest of Shuzenji.
This mine developed from 1577, and much gold was produced in the early 17th century.
But it was closed in 1625.
In 1906, a businessman invited foreign engineers, then this mine was restarted.
And this mine became the second largest in Japan in the first half of the 20th century.
But by depletion of the ore, it was closed in 1965.
After that, it was reconstructed as the tourist facilities since 1972.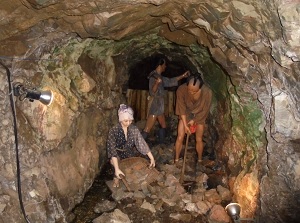 Workers in Toi Gold Mine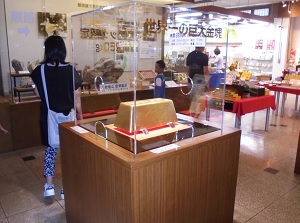 250-kilogram gold ingot in the museum
We can visit the ruin of the mine.
And we can see the many articles about this mine in the museum.
There is a real 250-kilogram gold ingot which is the largest in the world.
Cape Koibito (
恋人岬

)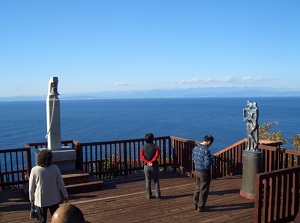 Cape Koibito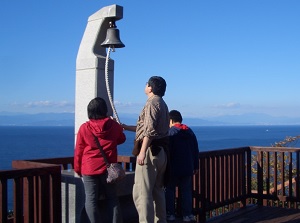 Love Call Bell of Cape Koibito
Cape Koibito is a cape located about 6 km southwest of Toi district.
"Koibito" means "lover".
So, this is the popular spot for couples, literally.
There is a legend that a young fisherman and a young girl assured their mutual love by ringing bells each other in a far place.
So, two monuments with a bell are set up on the observatory.
They are "Love Call Bell" and "Golden Bell".
If you ring it three times, it is said that you will success your love.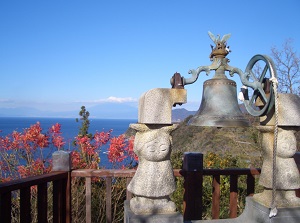 Golden Bell of Cape Koibito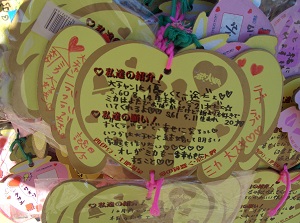 Enshrined love message cards at Cape Koibito
By the way, the cape "Two Lovers' Point" in Guam Island in Pacific Ocean is one of the popular sightseeing spots, and many couples visit there.
Both capes in Guam and here has joined hands, so Cape Koibito presented "Silver Bell" to Two Lovers' Point.
If you can ring both bells in Guam and here, it is said that you will get heavenly bliss.
Koganezaki coast (
黄金崎

)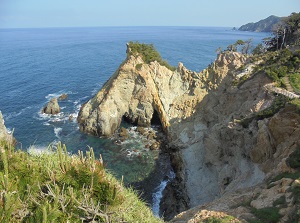 Koganezaki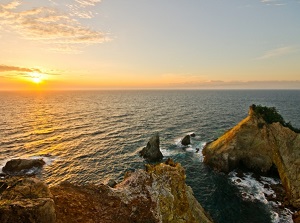 Sunset at Koganezaki
Koganezaki is a rocky coast located about 3 km south of Cape Koibito.
"Kogane" means "gold".
The color of the rocks around this coast is yellowish.
When the rocks catch the light of sunset, they appear in golden color.
A walking trail is set up along the coast.
Dogashima coast (
堂ヶ島

)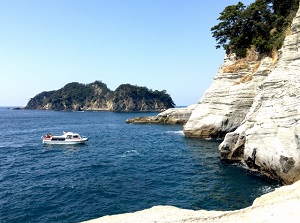 Pleasure boat near Tensodo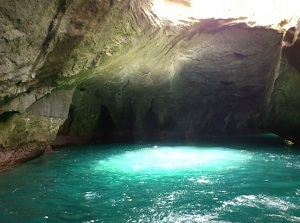 Inside of Tensodo
Dogashima is acoast with some small rocky islands.
It is located about 7 km south of Koganezaki coast.
"O" in the word is pronounced long, so it is read as "Dôgashima".
This coast and islands have been eroded by wild waves of the sea for a long time.
The popular spot is Tensôdô Cave (天窓洞) on the coast.
"Tensou" means "skylight".
It is a sea cave with three entrances and the the ceiling with a big hole is very unique.
We can visit by pleasure boat.
And the hole is near a walking trail, so we can peek through the hole.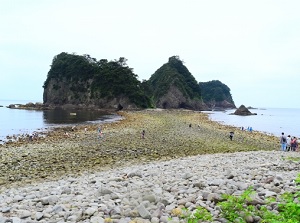 Sanshiro Islands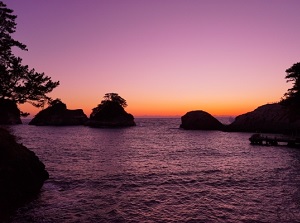 Sunset at Dogashima
There are Sanshiro Islands (三四郎島) about 200 meters off the coast.
At low tide, a narrow land like a road appears between the mainland and the islands.
It is few geological formations in Japan.
From the port "Dogashima Marine", pleasure boat is operated.
Above spots are seen on the boat.
How to get here
From Shuzenji station, by route bus for Matsuzaki, about 52 minutes to Toi-Kinzan (Gold Mine), about 1 hour and 7 minutes to Cape Koibito, about 1 hour and 14 minutes to Koganezaki, about 1 hour and 32 minutes to Dogashima.
Other Tourist Attractions in Shizuoka Prefecture
Around Mount Fuji
Around Izu Peninsula
Around Shizuoka city
Western area