Mishima is a city located at the base of the western part of Izu Peninsula.
It is located about 15 km west of Atami.
And, Mt.Fuji is about 30 km north-northwest and Lake Ashi in Hakone is about 12 km northeast.
And, here is the entrance town to tour the middle part and west coast of Izu Peninsula.
Tokaido Shinkansen stops at Mishima station.
And from the station, Izuhakone Railway leads to Shuzenji in the middle part of Izu Peninsula
There are a few popular spots in Mishima city.
Mishima Shrine (
三嶋大社

)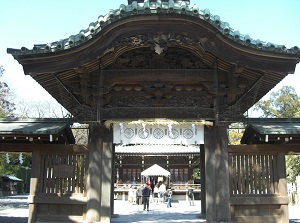 Main gate of Mishima Taisha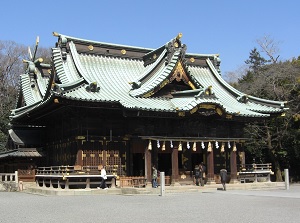 Main shrine of Mishima Taisha
Mishima Shrine ("Mishima Taisha" in Japanese) is the central Shinto shrine in Izu area, and is in Mishima city.
It is located about 0.8 km southeast of JR Mishima station.
It is unknown when this shrine was founded, but there are mentions of this shrine in old documents around the 8th century.
In the 12th century, Yoritomo Minamoto, the founder of Kamakura Government, adored this shrine.
Since that, many samurais and common people in this area have worshiped.
In this precincts, there area some interesting spots in addtion to common shrine buildings.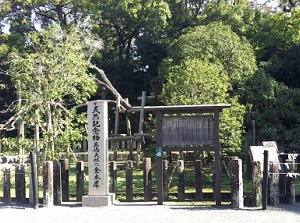 Kinmokusei tree in Mishima Taisha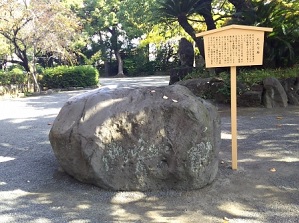 Tatari-ishi in Mishima Taisha
The old tree of kinmokusei (fragrant orange-colored olive) is designated as a national natural treasure.
It is estimated to be about 1,200 years old and the height is about 15 meters, and it is thought that the tree is the largest kinmokusei in Japan.
In autumn, it produces countless orange blossoms, and they give out fragrance.
Tatari-ishi (stone of curse) is a big stone and is put near the Torii gate of this shrine.
Originally, this stone was at the center of a crossing in front of this shrine.
The stone had naturally controlled the traffic of the people walking on the roads.
Because the crossing became crowded, the people in this town decided to remove this stone.
But, whenever they tried to remove it, some troubles occurs.
So they called this "stone of curse".
At last, when the road construction was done in 1914, this stone was removed.
To avoid new curse, the stone was enshrined in Mishima Shrine.
It is worshiped as a sacred stone for traffic safety.
Mishima Skywalk (
三島スカイウォーク

)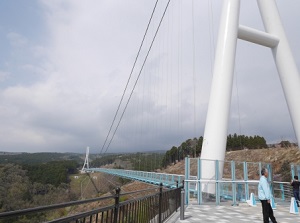 Mishima Skywalk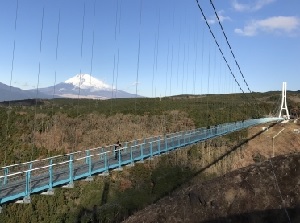 Mount Fuji from Mishima Skywalk
Mishima Skywalk is a pedestrian bridge.
It is located about 8 km northeast of the center of Mishima city.
It is a suspension bridge constructed in 2015, and crosses a valley.
The length is 400 meters, but the width is only 1.6 meters.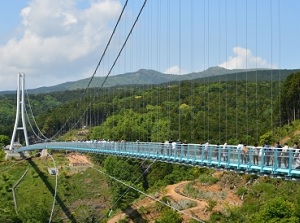 Mishima Skywalk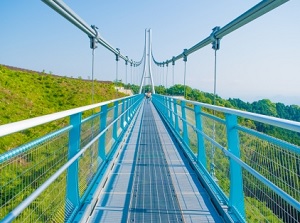 Narrow Mishima Skywalk
You can enjoy a thrill and see the beautiful Mount Fuji on the bridge.
Around the both edge of the bridge, there are some amusement facilities and restaurants.
This is on the way between Mishima station and Lake Ashi, and the route bus stops near this bridge.
(About 30 minutes from Mishima station, about 20 minutes from Lake Ashi)
How to get here
About 1 hour from Tokyo to Mishima by Tokaido Shinkansen.
Hotels in Mishima
Other Tourist Attractions in Shizuoka Prefecture
Around Mount Fuji
Around Izu Peninsula
Around Shizuoka city
Western area