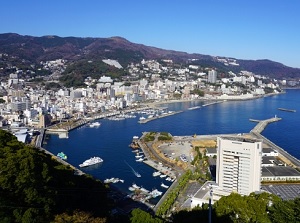 Atami city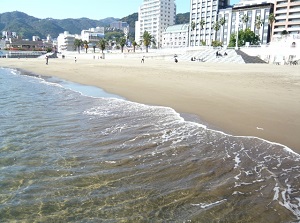 Atami Sun Beach
Atami is a hot spring resort city, and is located at the eastern end of Shizuoka Prefecture.
It is located at the base of the eastern part of Izu Peninsula and faces Sagami Bay.
Atami has been a known hot spring area since old times.
It is only about 90 km from Tokyo.
After the railway from Tokyo was completed in 1925, many tourists came to visit here.
Also many big-name politicians and leading businessmen has often visited here.
Atami is in Shizuoka Prefecture, but it has a stronger tie to Tokyo area rather than the other areas in Shizuoka Prefecture.
Until the burst of the economic bubble in the 1990s, there had been a lot of large-scale hotels and ryokans in the city.
After that, the hotels and ryokans has been selected.
Instead, resort condominiums are increasing.
The conventional hot spring resort city is changing now.
The city area of Atami is on the steep slope of mountainous Izu Peninsula.
Atami station of Tokaido Shinkansen is on the mountainside, and the city extends to the coast.
Here is the entrance town to tour the east coast of Izu Peninsula.
And the route bus to Lake Ashi in Hakone starts from Atami.
To tour around Atami, Yu-Yu Bus is convenient.
It starts from Atami station, and stops at most of the following sightseeing spots.
It is operated every 30 minutes on weekdays and every 15 minutes on holidays.
Ooyu-Kanketsusen (
大湯間欠泉

)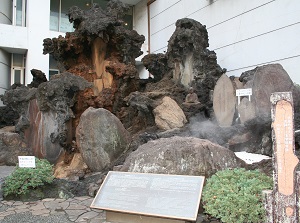 Ooyu-Kanketsusen
Photo by Atami City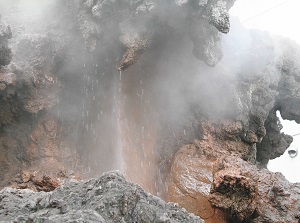 Spouting of Ooyu-Kanketsusen
Photo by Atami City
Ooyu-Kanketsusen is a historical geyser by a street in the center of the city.
It is located about 150 meters north of Atami City Hall.
It was the central hot spring source, and was one of the three great geysers in the world until the Great Kanto Earthquake in 1923.
After the earthquake, spouting of the hot water had stopped.
But it was renovated as a historical place in 1962.
Now, it spouts the hot spring every some minutes artificially.
Atami Sun Beach (
熱海サンビーチ

)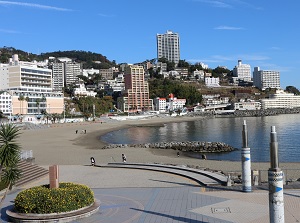 Atami Sun Beach
Photo by Atami City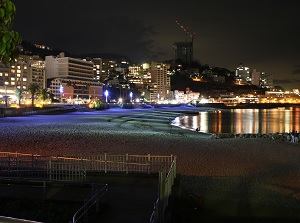 Illuminated Atami Sun Beach
Photo by Atami City
Atami Sun Beach is an artificial beach facing Sagami Bay.
It is near the center of Atami city.
It is about 400 meters long and the width of pretty sand beach is about 60 meters.
Because the beach faced east, we can see the sunrise directly.
It becomes a swimming beach from the middle of July to the end of August.
And fireworks festivals are held once or twice a month from March to September and in December.
In addition, the whole beach is illuminated by a prominent lighting designer from the sunset to 22:00 every day.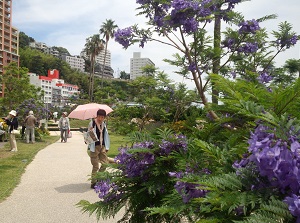 Jacaranda Promenade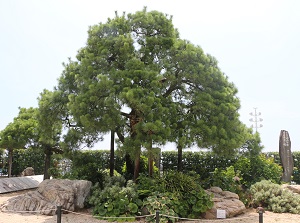 Omiya-no-Matsu
Photo by Atami City
Along the beach, there is Jacaranda Promenade.
Jacaranda is a flowering plant which is originally came from Latin America and has flowers of violet in May and June.
These were given by Cascais city in Portugal which is an Atami's sister city in 1990.
On Jacaranda Promenade, there is Pine tree of Omiya (お宮の松, Omiya-no-Matsu).
A popular serial novel "Konjiki-yasha" in a newspaper set in Atami in the end of the 19th century, and a scene in front of this tree was the climax.
The novel describes that the power of money tramples true love as the social trend in Japan at that time.
The scene was that Kan-ichi (young man) broke up with Omiya (his lover) who had been forced to marry another man.
Since that, this pine has been named "Omiya", and became the symbol of Atami.
Kiunkaku villa (
起雲閣

)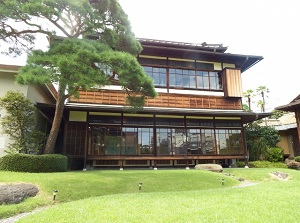 Kiunkaku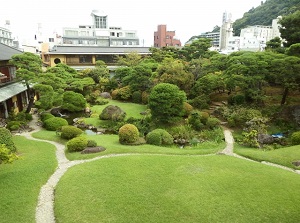 Japanese garden in Kiunkaku
Kiunkaku is a former villa located in the south part of the city and about 1.2 km south of Atami station.
It was built as a villa of a rich businessman in 1919.
Then, it was used as a ryokan from 1947 to 2000.
It was one of the excellent villas in Atami, and some great novelists in Japan stayed in this villa.
Now it is opened to the public as a Atami cultural asset.
In the site, there are a Japanese building with Western style and a beautiful Japanese garden.
Atami Castle (
熱海城

)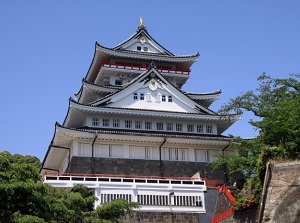 Atami Castle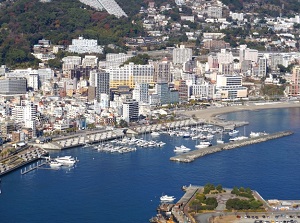 Scenery from Atami Castle
Atami Castle is located on a hill at the southern edge of Atami area.
It is about 1.2 km southeast of Kiunkaku and about 1.4 km south of Atami Sun Beach.
There has never been castle of Atami in history.
This castle was built as a tourist facility in 1959.
It is an altitude of about 100 meters and a ropeway is operated from the foot of the hill.
It is a six-storied building and the highest floor is the best observatory in Atami.
In other floors, there are the museums about the culture in Edo Period (1603-1868), Ukiyoe and Shunga (pornographic paintings in Edo Period), samurai goods, and Japanese castle.
Kinomiya Shrine (
来宮神社

)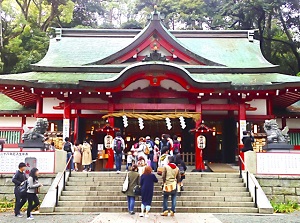 Kinomiya Shrine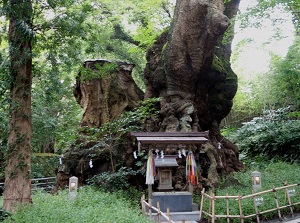 Old camphor tree in Kinomiya Shrine
Kinomiya Shrine ("Kinomiya Jinja" in Japanese) is a Shinto shrine located about 1 km west of Atami station.
It is said that this shrine was founded in 710.
It is the central shrine in Atami area and over 10 Shinto shrines in Atami are managed by this shrine.
There are two huge camphor trees in the precincts.
Especially, one of them is over 2,000 years old, and the height is about 20 meters and the circumference of the trunk is about 24 meters.
So, it has been designated as a natural monument.
If you walk around the tree once, it is said that your life will become a year longer.
It is near Kinomiya station of JR Ito Line which is the next staion of Atami.
Atami Ume Tree Garden (
熱海梅園

)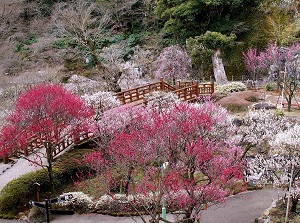 Atami Ume Tree Garden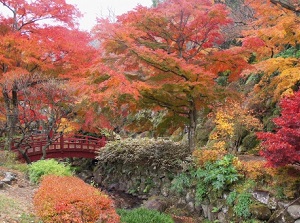 Atami Ume Tree Garden in autumn
Atami Ume Tree Garden ("Atami Baien" in Japanese) is an Ume tree garden located about 2 km west of Atami station.
From Kinomiya station, the distance is about 600 meters.
Ume is translated as "Japanese apricot", and white or pink blossoms come out in early spring.
The garden was built in 1886, and more than 450 ume trees are in the garden.
From late December to March, a lot of ume blossoms open up.
And there are about 380 maple trees, and the colored leaves are beautiful from late November to early December.
How to get here
By Tokaido Shinkansen, about 40 to 50 minutes from Tokyo.
Or, by JR Tokaido Line, from Tokyo, about 1 hour and 20 minutes by limited express, about 1 hour and 50 minutes by local train.
Other Tourist Attractions in Shizuoka Prefecture
Around Mount Fuji
Around Izu Peninsula
Around Shizuoka city
Western area