Miho pine grove (Miho no Matsubara) [
三保の松原

]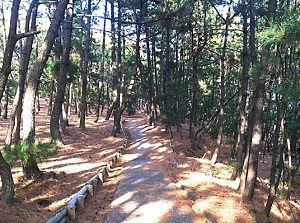 Path along old pine trees in Miho-no-Matsubara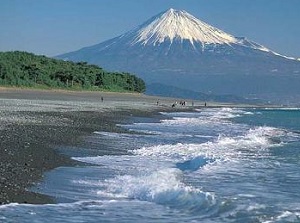 Miho-no-Matsubara
Miho pine grove ("Miho-no-Matsubara" in Japanese) is located along the eastern beach on small Miho Peninsula at the east part of Shizuoka city.
It is located about 5 km southeast of Shimizu district.
Shimizu is about 10 km east-northeast of Shizuoka station.
The beach faces Suruga Bay, and has a nice view of Mount Fuji and Izu Peninsula.
There are about 54,000 pine trees along the beach for 7 km.
There is an old legend of Hagoromo (Feather Mantle) on this beach.
Once, a fisherman was walking along this beach.
He found a beautiful cloth hanging on a branch of a pine tree.
When he was taking it to his home, a celestial lady appeared in front of him.
She said to him, "It is my Hagoromo (feather mantel) to fly. Please return me."
She was a celestial maiden and was bathing nearby.
But he didn't return it to her, so she began to sob because she wasn't able to go back to heaven.
Then, he demanded showing him her celestial dance in exchange for return.
She agreed delightedly.
But he thought that she might go away without dancing.
She said firmly, "People on the ground tell lies, but people on the heaven never tell lies."
He was ashamed of his thought, so he returned the Hagoromo to her.
She wore the Hagoromo and danced to music with fragrance for him.
Then she had acended to heaven.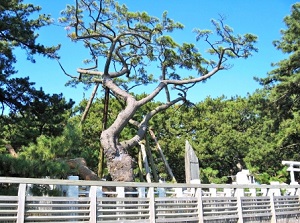 Pine tree of Hagoromo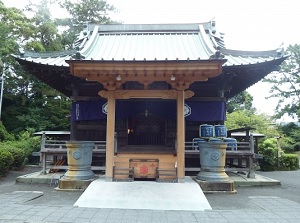 Miho Shrine
There is an pine tree about 650 years old in the grove, and it is known to the pine on which Hagoromo was hanging.
And it is said that Miho Shrine near the grove keeps a piece of the feather mantle.
This pine groves were added to the World Heritage List as part of Mount Fuji Cultural Site in 2013.
How to get here
From Shizuoka to Shimizu, about 11 minutes by local train on JR Tokaido Line.
Then, from Shimizu station, get off Miho-no-Matsubara iriguchi stop by route bus for Miho-Shakomae or Miho-suizokukan.
About 24 minutes.
Hotels in Shizuoka
Other Tourist Attractions in Shizuoka Prefecture
Around Mount Fuji
Around Izu Peninsula
Around Shizuoka city
Western area