Izu-Nagaoka is a hot spring resort located about 10 km south of Mishima city.
Kano River flows from south to north, and the resort town is in the basin formed by the river.
The main area of the onsen town is located west side of Kano River.
There is a small hill "Genjiyama" in the center of the area.
It is said that the hot spring in the eastern district of Genjiyama was found 1,300 years ago.
And the hot spring in the wester district was found more than a hundred years ago.
There are over 30 hot spring sources in the town.
They are alkaline simple hot spring, so it is believed to be effective for making skin smooth and beautiful.
Some Geishas are in Izu-Nagaoka onsen.
Geisha entertains the guests, and shows traditional Japanese dances and songs.
You can call Geisha when you stay in any ryokan in Izu-Nagaoka.
(Of course, some fee is added to the lodging fee.)
Izunokuni Panorama Park (
伊豆の国パノラマパーク

)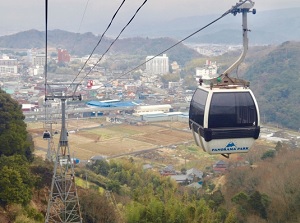 Izu-Nagaoka onsen town &
Ropeway to Izunokuni Panorama Park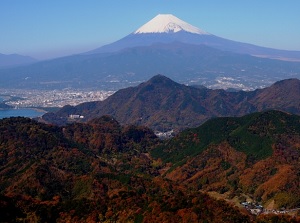 Mt.Fuji from Izunokuni Panorama Park
Izunokuni Panorama Park is located on the top of Mount Katsuragi.
Izu-Nagaoka onsen is in Izunokuni city, and there is Mount Katsuragi about 2 km south of the onsen town.
The altitude of the mountain is 452 meters, and a ropeway is operated from the edge of onsen town to the top.
The park is a good observatory for Mount Fuji.
There is an observation facility with foot bath, restaurant, cafe, shop.
And a walking trail is set up.
Nirayama Reverberatory Furnaces (
韮山反射炉

)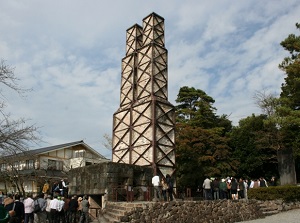 Nirayama Reverberatory Furnaces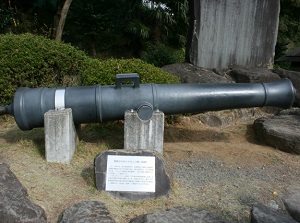 Displaying created cannon
Nirayama Reverberatory Furnaces is a casting facility of cannon in the middle of the 19th century.
It is located about 1.7 km east of Izu-Nagaoka station.
Japan had closed the country since the 1630s.
But American war ships appeared suddenly near Izu peninsula in 1853.
So, Edo government constructed this facility for national defense, and it was completed in 1857.
And this facility was operated until 1864.
Feudal Edo government was collapse and new modern Meiji government was founded in 1868.
Tt has been preserved as a historical building, and became a UNESCO World Heritage site in 2015.
How to get here
By Izuhakone Railway, about 25 minutes from Mishima to Izu-Nagaoka.
Other Tourist Attractions in Shizuoka Prefecture
Around Mount Fuji
Around Izu Peninsula
Around Shizuoka city
Western area