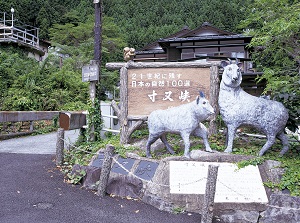 Sumatakyo Onsen
Photo by Shizuoka Prefectural Tourism
Association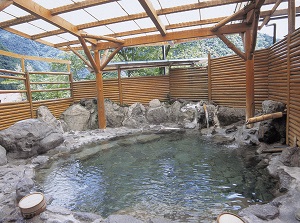 Public bathhouse in Sumatakyo Onsen
Photo by Shizuoka Prefectural Tourism
Association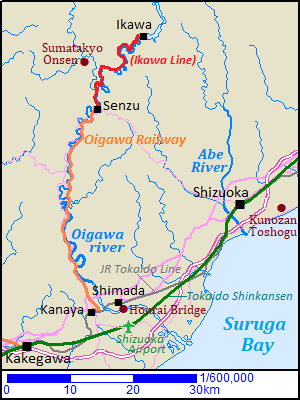 Sumata Gorge ("Sumatakyo" in Japanese) is a steep gorge formed by Sumata River which is one of the tributaries of Oigawa river.
The length of the gorge is about 16 km.
The meeting point of Sumata River into Oigawa river is located about 3 km north of Senzu station of Oigawa Railway.
There is Sumatakyo Onsen hot spring resort at the upper part of Sumata River.
It is located about 14 km north of Senzu station.
In the onsen village, there are more than a dozen ryokans.
It is said that the water of the hot spring contains an ingredient to make the skin beautiful.
So this onsen uses the catch phrase "The hot spring producing beauties".
In the onsen village, there is a municipal public outdoor bathhouse.
From the onsen village, a few walking trails touring Sumata Gorge.
The distance to the gorge is about 1 km, but you must walk on steep slope.
It takes 60 to 90 minutes to walk around the gorge.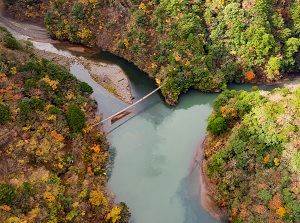 Yume-no-Tsuribashi
Photo by Shizuoka Prefectural Tourism
Association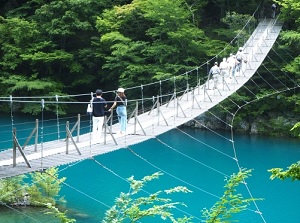 Yume-no-Tsuribashi in summer
There is Ooma Dam (大間ダム) on Sumata River.
A suspension bridge crossing over the dam lake is popular.
The bridge is 90 meters long and 8 meters over the river.
But, the width of the way is only 45 centimeters!
It is named Yume-no-Tsuribashi (夢の吊橋) meaning "Dream suspension bridge".
Only 10 people at a time can cross the bridge.
So, in the holidays, many visitors come here and you may have to wait a few hours to cross the bridge.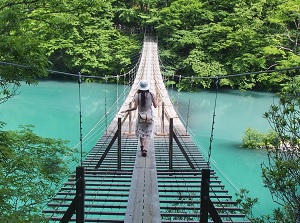 Narrow way of Yume-no-Tsuribashi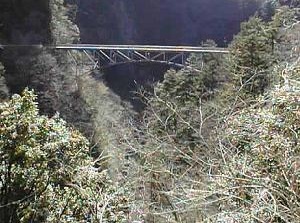 Hiryu Bridge
About 1 km up the river, there is Hiryu Bridge (飛龍橋).
It was the bridge for a forest railway, but it is used as a part of a forest road now.
We can walk on the bridge.
It is about 100 meters over the river.
How to get here
By local train of JR Tokaido Line, to Kanaya, about 30 minutes from Shizuoka, about 17 minutes from Kakegawa.
Hotels around Sumatakyo Onsen
Other Tourist Attractions in Shizuoka Prefecture
Around Mount Fuji
Around Izu Peninsula
Around Shizuoka city
Western area