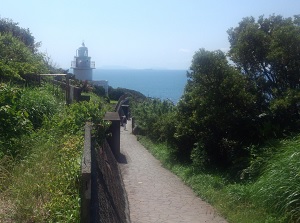 Irozaki lighthouse and walking trail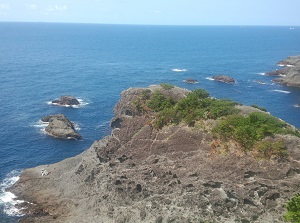 Sea around Irozaki
Irozaki is a cape at the southern end of Izu Peninsula.
"O" in the word is pronounced long, so it is read as "Irôzaki".
It is located about 60 km south of Atami or Mishima cities.
And it is about 17 km southwest of Shimoda city.
The coast around the cape is steep and has rocky cliffs.
Irozaki lighthouse about 11 meters high stands near the tip of the cape.
It was built in 1871, and is still operated.
Basically, we can't enter the lighthouse.
A walking trail leads to the tip of the cape.
By the tip, there are two shrines.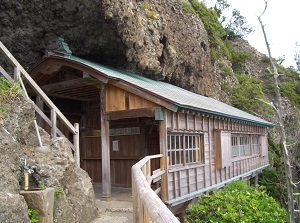 Irou Shrine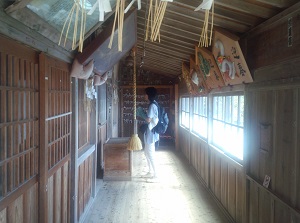 Inside of Irou Shrine
Irou Shrine (石室神社) is the main shrine.
It is built in a hollow of the rocky cliff.
It is said that the shrine was founded in 701, and current shrine was rebuilt in 1901.
As the foundation of the shrine, a mast of a ship in Edo Period (1603-1868) has been used.
The gods of Sea and Literature are worshiped in this shrine.
The location is unbelievable, but there is the shrine office.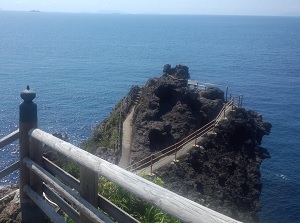 Tip of the cape with Kumano Shrine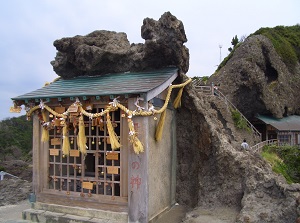 Kumano Shrine & Irou Shrine
Another is Kumano Shrine (熊野神社).
It stands at the extreme edge of the cape, but is a very small shrine.
The God of Marriage is worshiped in this shrine.
We can see the view of vast Pacific Ocean.
There is no land within over 3,800 km toward south from here to New Guinea Island.
There is Irozaki Ocean Park about 500 meters from the tip of the cape.
It is the visitor center with parking, cafe and shop, and there is the route bus stop.
In addition, the pleasure boat touring around Irozaki are operated frequently.
It takes about 25 minutes.
The boarding point is in an inlet about 400 meters from Irozaki Ocean Park.
How to get here
By route bus, about 45 minutes from Izukyu-Shimoda station.
Hotels around Irozaki
Other Tourist Attractions in Shizuoka Prefecture
Around Mount Fuji
Around Izu Peninsula
Around Shizuoka city
Western area