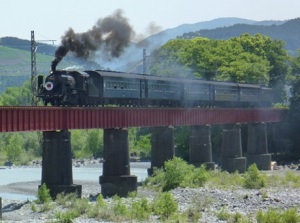 Steam Locomotive of Oigawa Railway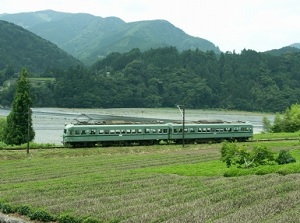 Running train by tea farm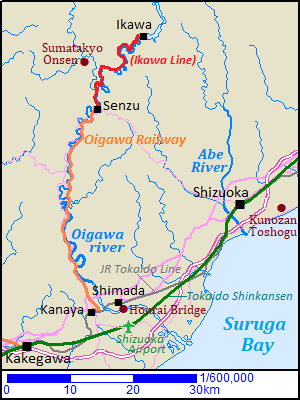 Oigawa Railway is a local railway company, and has a line along Oi River (Oigawa).
The first "o" in the word is pronounced long, so it is read as "Ôigawa".
The main line is from Kanaya (金谷) station of JR Tokaido Line to Senzu (千頭) station.
The length is 39.5 km.
From Senzu, Ikawa Line runs toward the upstream of Oigawa river and there is Ikawa Dam near Ikawa (井川) terminal station.
It is the only rack-and-pinion railway in Japan.
The length is 25.5 km.
The main line has been known for preservation of the steam locomotives.
The line has several steam locomotives, and operates a round-trip train by the steam locomotive nearly every day.
The locomotives were made from the 1930s to the 1940s and had worked in Japanese National Railways.
This train is popular among tourists, and all seats are reserved.
Other common trains are operated by old electric trains.
Most of them had ever been used as the limited expresses of some major railway companies.
The main line runs through the valley formed by Oigawa river.
We can see the scenary of tranquil tea farms, forests, Oigawa river and mountains.
In Japan, the train towed by a steam locomotive had disappeared in the 1970s.
So traveling on this train induces nostalgia in many Japanese people.
It takes about 1.5 hours from Kanaya to Senzu.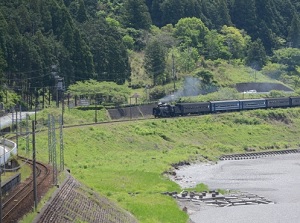 Steam Locomotive running along Oigawa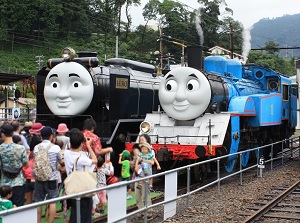 Day out with Thomas in Oigawa Railway
You may know Thomas & Friends which is a British-American children's television series and the main characters are the locomotives.
Since 2014, its event "Day out with Thomas" has been held for a few months a year.
Some locomotives in this railway are changed to real "Thomas & Friends" and run on the route.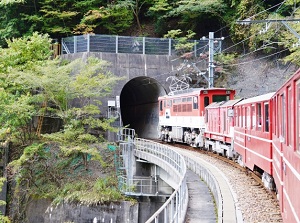 Train of Ikawa Line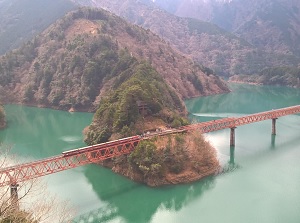 Ikawa Line crossing a dam lake
Ikawa Line is a mountain railroad, and we get on the small train with rack-and-pinion.
The route to Ikawa is very steep, so the train runs through many tunnels and bridges.
Originally, this line was built for transportation to construct Ikawa Dam.
So there is few houses along this line.
The last half of the line runs along particularly steep Sesso Canyon in Oigawa river.
It takes about 1 hours and 50 minutes from Senzu to Ikawa.
How to get here
By local train of JR Tokaido Line, to Kanaya, about 30 minutes from Shizuoka, about 17 minutes from Kakegawa.
Hotels around Oigawa Railway
Other Tourist Attractions in Shizuoka Prefecture
Around Mount Fuji
Around Izu Peninsula
Around Shizuoka city
Western area