Gotemba Premium Outlets [
御殿場プレミアム・アウトレット

]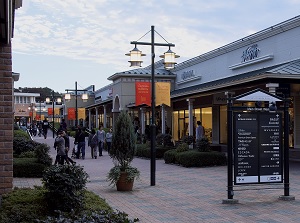 Gotemba Premium Outlets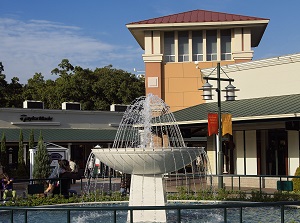 Gotemba Premium Outlets
Gotemba Premium Outlets is an outlet mall in Gotemba city.
It is located about 4 km east-northeast of JR Gotenba station.
(In Japan, "Gotemba" is often written as "Gotenba".)
It was opened in 2000, and is one of the largest outlet malls in Japan.
In 2020, there are about 300 outlet stores and a hotel was opened.
The site has "West Zone" and "East Zone", and both zones are connected with a bridge.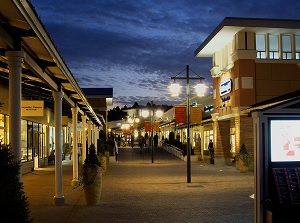 Gotemba Premium Outlets in the evening
American‐style buildings of the stores are lined, and Mount Fuji stands out clear behind them.
Because this is located between Mount Fuji and Hakone, the domestic and foreign tourists are increasing.
So some bus tours mainly from Tokyo area are produced.
You can visit this outlet mall, Mount Fuji, Hakone on a day trip or two days trip.
How to get here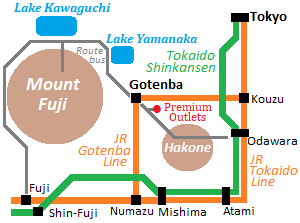 From JR Gotenba station, shuttle bus is operated every 15 minutes.
To Gotenba station, by local train of JR Gotenba Line, about 50 minutes from Kouzu, about 35 minutes from Numazu.
To Kouzu, by JR Tokaido Line, about 1 hour and 20 minutes from Tokyo, about 8 minutes from Odawara.
To Numazu, by JR Tokaido Line, about 4 minutes from Mishima (Tokaido Shinkansen)
By route bus, about 35 minutes from Gora station in Hakone.
Or, by route bus, about 1 hours 15 to 45 minutes from Lake Kawaguchi to Gotenba station or Gotenba outlet malls.
Hotels around Gotenba
Other Tourist Attractions around Mount Fuji
Other Tourist Attractions in Shizuoka Prefecture
Around Izu Peninsula
Around Shizuoka city
Western area