Oshino Shonobi-no-Sato [
忍野 しのびの里

]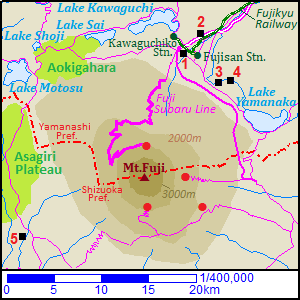 1) Fuji-Q Highland 2) Arakurayama Sengen Park
3) Shinobi-no-Sato 4) Oshino-hakkai
5) Shiraito Falls
Red circles are the 5th stations and are the entrances of mountain trail.
Shonobi-no-Sato is a theme park of Ninja in Oshino village.
It is located about 7 km southeast of Lake Kawaguchi and there is a tourist attraction Oshino-hakkai about 1.5 km east of this park.
Ninja is a spy doing covert operations for a feudal lord, and they existed in reality in Japan.
The places of Ninja's birth are Iga in Mie prefecture and Kouga in Shiga prefecture.
But Ninja is one of popular Japanese characters in the medieval time.
And Ninja was also commonly called "Shinobi".
This theme park show the Ninja as a Japanese character.
If you want to know more about Ninja, please check the following page.
In this theme park, real action by Ninja is performed as a show.
And Ninja residence is interesting like a maze because it has some tricks.
You can wear the Ninja costume and join the Ninja action as easy athletics.
There is a Japanese garden and a restaurant of Japanese cuisine.
Both Ninja lovers and kids can enjoy this park.
How to get here
Get on the route bus for Gotenba at Kawaguchiko or Fujisan station of Fuji Kyuko Railway, then get off at Oshino Shinobi-no-Sato stop.
About 20 minutes from Kawaguchiko, about 12 minutes from Fujisan station.
Hotels around Oshino village
Other Tourist Attractions around Mount Fuji
Other Tourist Attractions in Yamanashi Prefecture