Arakurayama Sengen Park [
新倉山浅間公園

]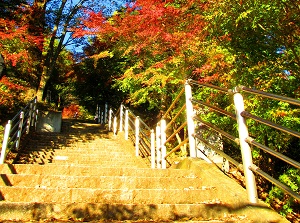 Stairs to Arakurayama Sengen Park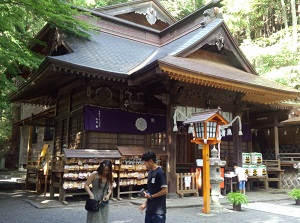 Main shrine of Arakura Fuji-Sengen Shrine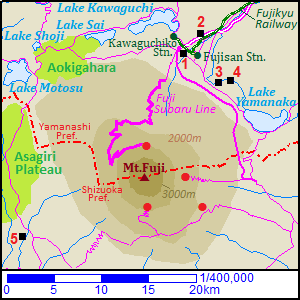 1) Fuji-Q Highland 2) Arakurayama Sengen Park
3) Shinobi-no-Sato 4) Oshino-hakkai
5) Shiraito Falls
Red circles are the 5th stations and are the entrances of mountain trail.
Arakurayama Sengen Park is a park on the mountainside.
It is located about 3 km east of Lake Kawaguchi.
This park is one of the good observatories to see Mount Fuji.
There is Arakura Fuji-Sengen Shrine (新倉山浅間神社) at the foot of the park.
It is said that the shrine was founded in 705.
The park is in the precincts of the shrine.
To the park, you climb the stairs with 397 steps.
There is a five-storied pagoda in the park.
It is not a building for Buddhist temple but a memorial tower for war dead.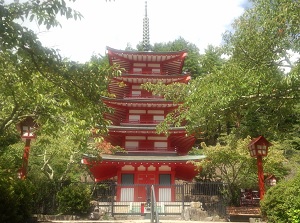 Five-storied pagoda in the Park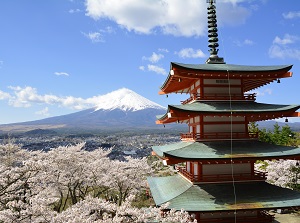 Popular scenery from the Park
There are about 650 cherry trees in the park, and the blossoms are in full bloom around the first week in April. (The period is about a week later than Tokyo.)
Since 2011, this park has become popular with foreign tourists because they can see Mount Fuji, Japanese cherry blossoms and five-storied pagoda like Kyoto in one time.
How to get here
About 600 meters walk to Arakura Fuji-Sengen Shrine, from Shimo-Yoshida station of Fuji Kyuko Railway.
To the park, climb the long stairs. (397 steps, 200 meters)
To Shimo-Yoshida, by local train, about 15 minutes from Kawaguchiko, about 45 minutes from Otsuki.
Hotels around Lake Kawaguchi
Other Tourist Attractions around Mount Fuji
Other Tourist Attractions in Yamanashi Prefecture