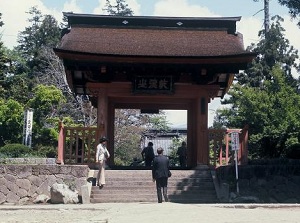 Akamon gate of Enrinji
Photo by Yamanashi Tourism Organization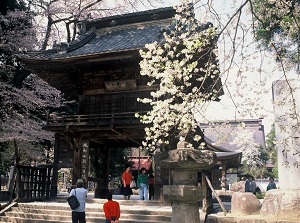 Sanmon Gate with the priest's words
Photo by Yamanashi Tourism Organization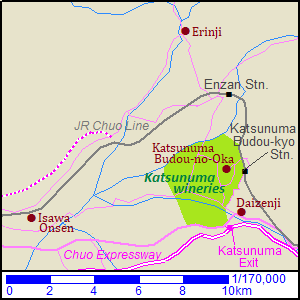 Erinji is a Buddist temple located about 3.5 km northwest of JR Enzan station.
It is about 7 km north of Katsunuma Grape Hill.
It is the temple of Rinzai school, one of the Zen sects, and was founded in 1330.
In the 16th century, here became the temple of Takeda Family which was the lord family of this area.
Since that, this temple became the important temple in this area.
In 1582, Takeda Family was ruined by Oda Nobunaga who was a strong lord having the ambition to unite whole Japan.
After that, the remnants of the Takeda clan escaped to this temple.
Oda troop demanded to hand over the remnants from the temple, but the chief priest refused.
Therefore, the troop set fire to the temple.
The chief priest barricaded himself on Sanmon Gate and killed himself in the fire reciting some Buddhist words.
The words are written on the rebuilt Sanmon Gate.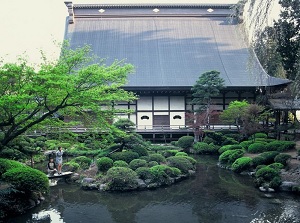 Pond in Japanese garden in Erinji
Photo by Yamanashi Tourism Organization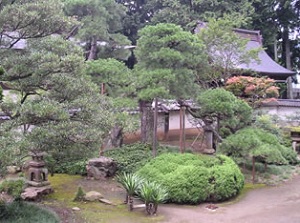 Japanese garden in Erinji
Most buildings in this temple are designated as the prefectural tangible cultural properties.
It has also a beautiful Japanese garden.
How to get here
By limited express of JR Chuo Line, from Shinjuku to Enzan, about 1 hour and 25 minutes.
Then, by route bus for Nishizawa-Keikoku, about 11 minutes from Enzan station to Erinji stop.
Other Tourist Attractions around Mount Fuji
Other Tourist Attractions in Yamanashi Prefecture