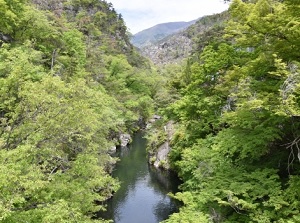 Shosenkyo gorge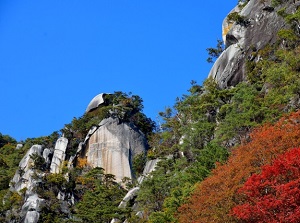 Kakuenbou cliff in Shosenkyo
Shosenkyo is a gorge located about 10 to 15 km north of the centrer of Kofu city.
Two "o" in the word are pronounced long, so it is read as "Shôsenkyô".
The gorge has been formed by Arakawa River, and there are a lot of strange rocks along the river at the bottom of the deep gorge.
It was designated as a nation's special place of scenic beauty in 1953.
It is one of only 36 places along with My.Fuji, some old temples in Kyoto, etc.
A road runs along the gorge.
The route bus from Kofu runs on this road, and it runs on the main section of the gorge.
But, especially, this road is crowded with cars in the foliage season.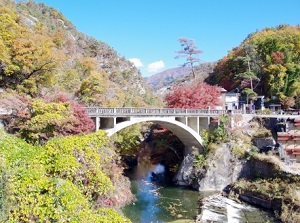 Nagatoro Bridge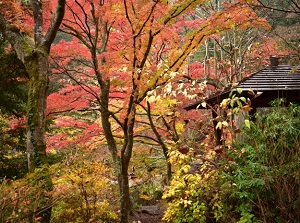 Tenkorin in autumn
There is Nagatoro Bridge (長潭橋) at the entrance of the gorge, and it is the old bridge completed in 1925.
There are some shops and parking lots.
At about 2 km point from Nagatoro Bridge, there is Tenkorin forest (天鼓林).
It is a flat place near the river.
When you stamp the ground in Tenkorin, you can heard a sound like beating a drum.
The reason is that the ground in this gorge has resonating holes.
On the opposite side of the gorge at about 0.6 km point from Tenkorin, there is Rakanji temple (羅漢寺).
It is unknown when the temple was founded, but the small temple had been a training seminary of Japanese Shingon Esoteric Buddhism in the 16th century.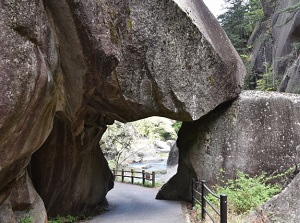 Ishimon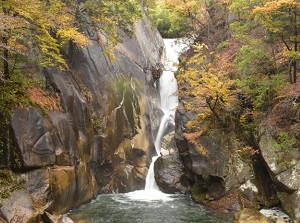 Senga-taki falls
At about 2 km point from Tenkorin, there is Ishimon (石門) which is a natural tunnel of huge rocks.
The walking trail passes through the tunnel.
At about 0.3 km point from Ishimon, there is Senga-taki falls (仙娥滝).
The height is about 30 meters.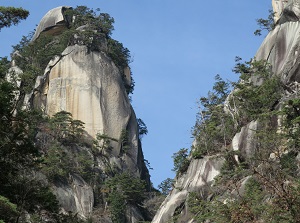 Kakuenbou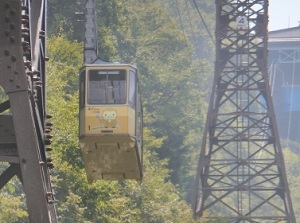 Shosenkyo Ropeway
And, by Senga-taki, the rocky cliff Kakuenbou (覚円峰) rises.
It is the symbol of Shosenkyo, and the height is about 180 meters.
It is said that a priest Kakuen practiced Buddhism on the top of the cliff in the late 16th century.
The place is at the uppermost part of Shosenkyo, and there is the parking for car.
And Shosenkyo Ropeway is operated from the area to the mountain at the west side of the gorge.
Of course, we can see Mt.Fuji at the observatory on the top.
How to get here
By route bus, from Kofu station, about 30 minutes to the entrance of Shosenkyo, about 50 minutes to Senga-taki.
Hotels in Kofu
Other Tourist Attractions around Mount Fuji
Other Tourist Attractions in Yamanashi Prefecture