Katsunuma Grape Hill [
勝沼ぶどうの丘

]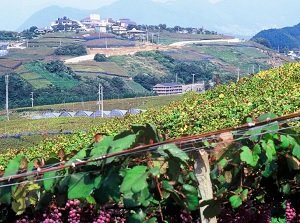 Katsunuma Grape Hill
Photo by Yamanashi Tourism Organization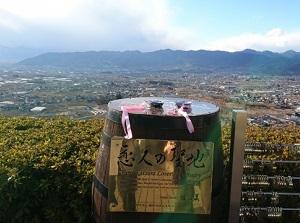 Lover's observatory in Katsunuma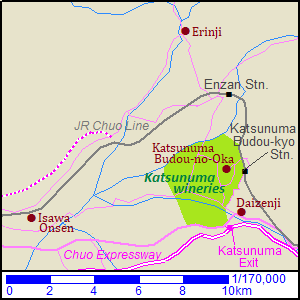 Katsunuma is a famous grape production area in Japan.
It is in Koshu city a little east from the center of Yamanashi Prefecture.
It is located about 15 km east of Kofu city and about 35 km north of Mt.Fuji.
And it is located about 90 km west of Tokyo.
In Japanese, this area is called Katsunuma Budou-kyô (勝沼ぶどう郷) as a nickname.
It means "Katsunuma Grape Country" and the nearest railway station has the name.
Vineyards spread on the hills with gentle slopes and many wineries are dotted in the area.
Because the rainfall is not so much and the temperature difference between day and night is large, Katsunuma is suited to the cultivation of grape.
It is said that the first grapes were cultivated in Katsunuma in 1186.
And the first wine in Katsunuma was brewed in 1877, after learning the brewing technologies in France.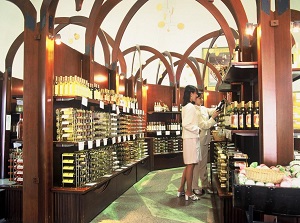 Wine shop in Katsunuma Grape Hill
Photo by Yamanashi Tourism Organization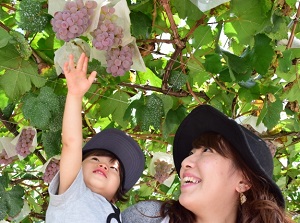 Grape picking in Katsunuma
Katsunuma Grape Hill is the tourist facility for this area.
In Japanese, it is called Katsunuma Budou-no-Oka (勝沼ぶどうの丘).
It is located on a hill about 0.7 km west of JR Katsunuma Budou-kyo station.
The facility has a restaurant, souvenir shops and spa.
And its wine cellar has about 180 kinds of Koshu wine, so we can have a tasting.
Daizenji temple (
大善寺

)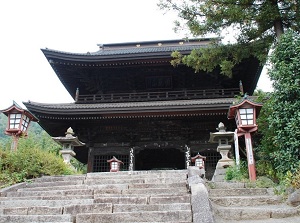 Main gate of Daizenji temple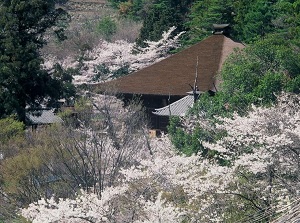 Daizenji temple in spring
Photo by Yamanashi Tourism Organization
Daizenji is a temple of Shingon Buddhism, one of the major schools of Japanese Buddhism.
It is located about 2 km south of JR Katsunuma Budou-kyo station, and is around the southern edge of Katsunuma Budou-kyo area.
It is said that the temple was founded by high priest Gyoki in 718.
When Gyoki had performed the ascetic practices in the mountains near here, Medicine Buddha holding a grape came to him in a dream on the final day of the practices. (Grape was one of medical plants at that time.)
Soon, he carved the Buddha statue and built a temple.
That is the current Daizenji.
After that, it is he taught cultivation method of grape to the village people.
Therefore, this temple has been called "Budou-dera" (Grape temple).
(As the origin of grape in Katsunuma, the period in this temple is one of opinions. Another opinion is the year of 1186 described above.)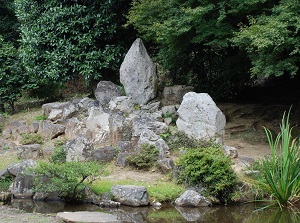 Old Japanese garden in Daizenji temple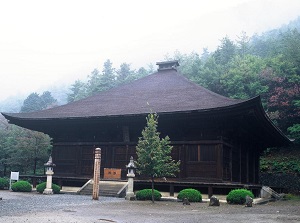 Yakushido of Daizenji
Photo by Yamanashi Tourism Organization
Yakushido in this temple was built in 1286, and is designated as a national treasure.
How to get here
By limited express of JR Chuo Line, about 1 hour and 10 minutes from Shinjuku to Otsuki.
Change to local train.
About 30 minutes from Otsuki to Katsunuma Budou-kyo station.
Then, walk for 1 km. But there are some slopes on the way.
Hotels around Katsunuma
Other Tourist Attractions around Mount Fuji
Other Tourist Attractions in Yamanashi Prefecture