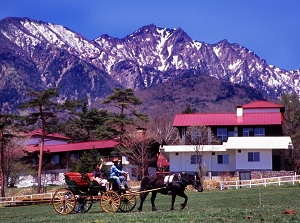 Photo by Yamanashi Tourism Organization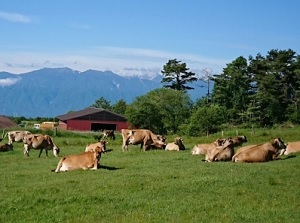 Kiyosato Highland is a resort area on the southeastern foot of Yatsugatake mountains.
It is one of the popular summer resorts, and many resort inns and cottages are dotted on the slope of Yatsugatake.
They are located at an altitude of 1,000 to 1,400 meters.
In 1938, the construction of the Ogouchi Dam began.
(The dam is located at the western end of Tokyo Metropolis, and the dammed lake is Lake Okutama.)
Then the people who lived in the villages sank under water in the dam were forced to emigrate to Kiyosato.
And they had to develop the barren land for themselves.
Around the same time, Paul Rusch (1897-1979), an American missionary, helped to develop the land.
He taught them the dairy, so this area developed.
In the 1970s, some fashion magazines for women introduced Kiyosato as an idyllic spot, so Kiyosato has became popular as a resort area.
The central place of the area is Kiyosato station of JR Koumi Line.
The main spots are dotted within about 3 km from the station.
The route bus Kiyosato Picnic Bus is operated from Kiyosato station through main sightseeing spots.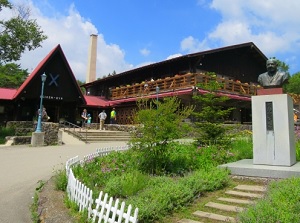 Seisenryo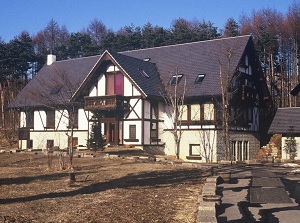 Hall of Halls in Moegi-no-mura
Photo by Yamanashi Tourism Organization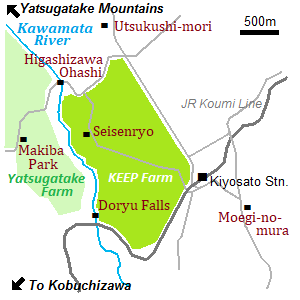 Seisenryo (
清泉寮

)

Seisenryo is a facility with shops, restaurants and a hotel.
It is located 1 to 2 km west of Kiyosato station.

The facility is the main building of KEEP Farm.
KEEP Farm is the experiment ranch founded by Paul Rasch, and many Jersey cows are farmed.

The soft serve ice cream made from the cow's fresh milk is very popular.
Moegi-no-mura (
萌木の村

)

Moegi-no-mura is a village with shops, restaurants and cafes.
It is located about 1 km southeast of Kiyosato station.

Each building is in European style, and over 20 shops are dotted in a forest.

Additionally there is the museum of music box Hall of Halls.
Prefectural Yatsugatake Farm (
県立八ヶ岳牧場

)

Yatsugatake Farm is a wide prefectural farm located just to the west of KEEP Farm.

There is Makiba Park (まきば公園) for visitors in the farm.
We can meet the sheep, goats and ponies there.

It is opened from mid-April to early November.
Higashizawa Ohashi bridge (
東沢大橋

)

Higashizawa Ohashi is a bridge located about 1 km northwest of Seisenryo.

It spans a gorge, and is a good view spot to see the scenery of Yatsugatake Mountains and beautiful forests.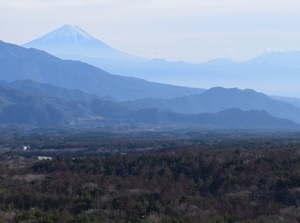 Scenery at the observatory of Utsukushi-mori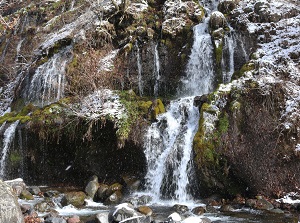 Doryu Falls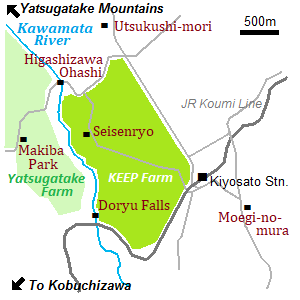 Utsukushi-mori hill (
美し森

)

Utsukushi-mori is a hill located about 3 km northwest of Kiyosato station.
"Utsukushi-mori" means "beautiful forest".

It is a natural observatory, and the altitude is 1,542 meters.

There is a tourist information center and a parking lot at the foot of the hill, and we can go to the top for only about 200 meters walk.
Doryu Falls (
吐竜の滝

)

Doryu Falls is a group of small waterfalls located about 1.5 km west of Kiyosato station.

It is 10 meters high and 15 meters wide.
We feel as if we see a Japanese garden.
How to get here
To Kobuchizawa, about 2 hours from Shinjuku by JR limited express.
Change to JR Koumi Line.
By local train, about 25 minutes from Kobuchizawa to Kiyosato.
Hotels around Kiyosato
Other Tourist Attractions around Mount Fuji
Other Tourist Attractions in Yamanashi Prefecture