Fuji-Q Highland [
富士急ハイランド

]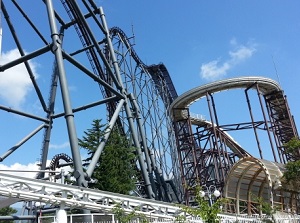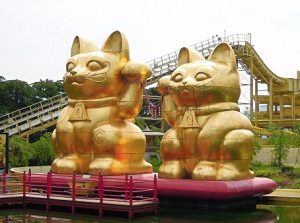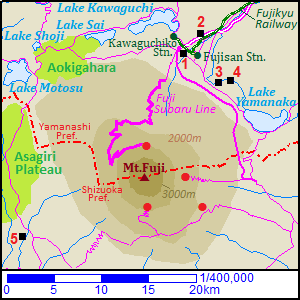 1) Fuji-Q Highland 2) Arakurayama Sengen Park
3) Shinobi-no-Sato 4) Oshino-hakkai
5) Shiraito Falls
Red circles are the 5th stations and are the entrances of mountain trail.
Fuji-Q Highland (Fujikyû Highland) is an amusement park located about 2 km southeast of Lake Kawaguchi.
There are the station of Fuji Kyuko Railway and the exit of expressway from Tokyo by the park.
This park is popular for the newest thrill rides.
There are a dozen of thrill rides in this park.
Of course, there are some moderate rides for little children.
There is the area of "Thomas & Friends".
This park was constructed by Fuji Kyuko Railway company.
"Fuji-Q" is the same as the pronunciation of "Fuji-kyu" which is the abbreviation of "Fuji Kyuko".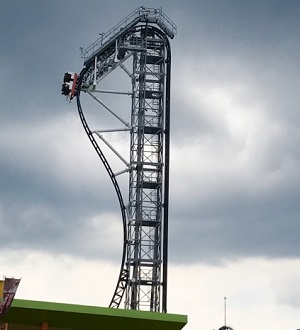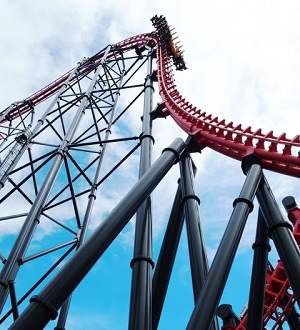 How to get here
By limited express of JR Chuo Line, from Shinjuku to Otsuki, about 1 hour and 10 minutes.
Then, by Fuji Kyuko (Fujikyu) railway, from Otsuki to Fujikyu-Highland station, about 45 minutes by limited express, about 55 minutes by local train.
By route bus, express buses run from Shinjuku and Tokyo stations.
About 1 hour and 40 minutes from Shinjuku, 2 hours and 20 minutes from Tokyo.
Route buses run from Kofu, Shin-fuji, Mishima and Gotenba stations.
Hotels around Lake Kawaguchi
Other Tourist Attractions around Mount Fuji
Other Tourist Attractions in Yamanashi Prefecture