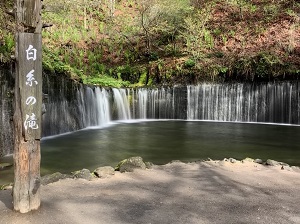 Shiraito no taki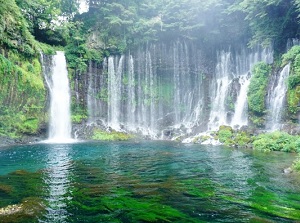 Shiraito Falls in summer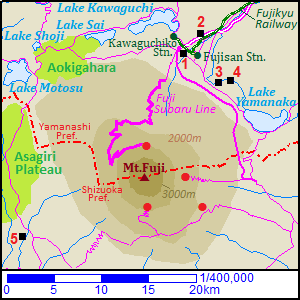 1) Fuji-Q Highland 2) Arakurayama Sengen Park
3) Shinobi-no-Sato 4) Oshino-hakkai
5) Shiraito Falls
Red circles are the 5th stations and are the entrances of mountain trail.
Shiraito Falls ("Shiraito no taki" in Japanese) is located to the south of Asagiri highland, and about 10 km north of central Fujinomiya city.
And, it is at the west-southwestern foot of Mount Fuji, and about 14 km west-southwest of the top of Mount Fuji.
Water falls from the crevices of lava bed.
Melted snow water on Mount Fuji sinks through the ground, then the water comes out here after many years.
It is designated as a national natural treasure.
The waterfall is about 20 meters high and about 150 meters wide.
And the rock wall is curved.
The falling water looks like many hanging silken threads.
"Shiraito" means "white thread".
Shiraito Falls is the most popular sightseeing spot on the Shizuoka Prefecture side of Mount Fuji.
By the way, there are many waterfalls called "Shiraito no taki" in Japan.
Falling water of each falls is similar to Shiraito.
But, this waterfall is the best known in Japan.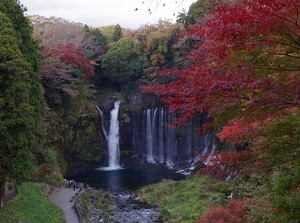 Shiraito Falls in autumn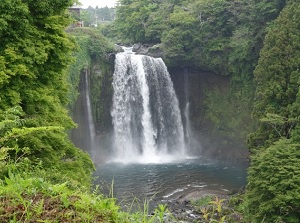 Otodome Falls
There is Otodome Falls (音止の滝) about 0.2 km southeast of Shiraito Falls.
This falls is in another river.
It is about 25 meters high, and much water fall strongly.
The scenery contrasts with Shiraito Falls
How to get here
By route bus, about 55 minutes from Shin-Fuji station of Tokaido Shinkansen, about 1 hour and 15 minutes from Lake Kawaguchi.
Or, after changing to the local train of JR Tokaido Line at Mishima or Shizuoka station of Tokaido Shinkansen and go to Fuji station. (about 35 minutes from both stations)
Then, change to JR Minobu Line at Fuji station, and go to Fujinomiya. (about 20 minutes).
By route bus, about 30 minutes from Fujinomiya station to Shiraito Falls.
Hotels around Fujinomiya city
Other Tourist Attractions around Mount Fuji
Other Tourist Attractions in Shizuoka Prefecture
Around Izu Peninsula
Around Shizuoka city
Western area