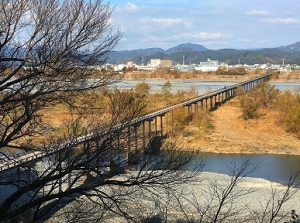 Hourai Bridge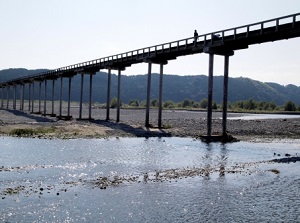 Hourai Bridge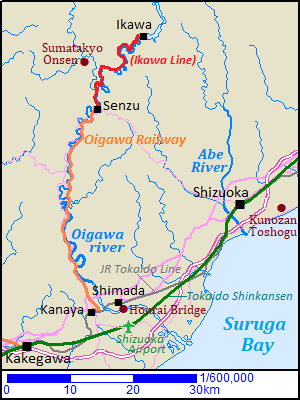 Hourai Bridge ("Hôraibashi" or "Houraibashi" in Japanese) is a wooden bridge across Ôi River.
It is located about 1.2 km southeast of JR Shimada station.
Shimada city is located about 25 km southwest of Shizuoka city.
Ôi River ("Ôigawa" in Japanese) had been an river with a large quantity of water.
In Edo Period (1603-1868), no bridge was built for defence of Sunpu Castle in Shizuoka and Edo city (current Tokyo) against the attack from the western region.
In the period, the travellers had to cross the river on the shoulder of professional man or on the back of a horse.
In Meiji Period (1868-1912), the construction of the bridge across Ôi River was allowed.
Hourai Bridge was completed for the farmers to go to the tea farms on Makinohara hills on the opposite side of Shimada in 1879.
The wooden bridge is 897.4 meters long and 2.7 meters wide.
Cars can't cross this bridge.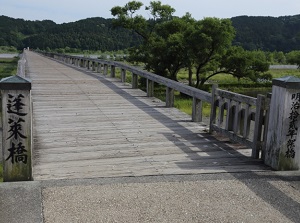 An edge of Hourai Bridge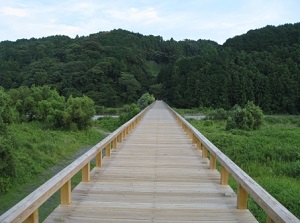 On Hourai Bridge
In 1957, new bridge was built about 700 meters downstream, so few people had crossed this bridge.
In 1965, because Ôi River has sometimes overflowed and this bridge has been repaired each time, only bridge piers were made of concrete.
In 1997, this bridge has entered the Guinness Book of Records for the longest wooden bridge in the world in 1997.
So tourists began visiting this bridge.
We can cross the bridge from 8:30 to 17:00, and the fee is 100 yen.
How to get here
By local train of JR Tokaido Line, to Shimada, about 27 minutes from Shizuoka, about 20 minutes from Kakegawa.
Then, About 25 minutes walk (1.5 km) from Shimada station.
Hotels in Shimada
Other Tourist Attractions in Shizuoka Prefecture
Around Mount Fuji
Around Izu Peninsula
Around Shizuoka city
Western area