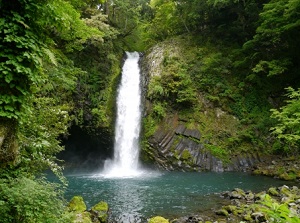 Joren Falls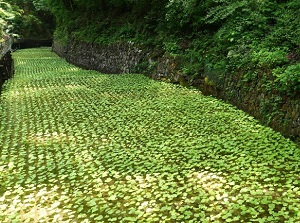 Wasabi field around Mount Amagi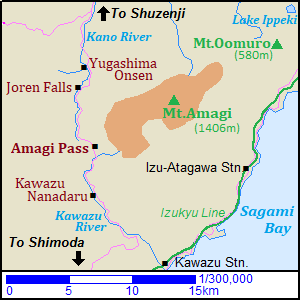 Mount Amagi is a group of some volcanoes, and is located a little to the east from the center of Izu Peninsula.
It is about 15 km south of Shuzenji and about 15 km southwest of Ito city.
And it is about 20 km north of Shimoda city.
The altitude of the highest peak is 1,406 meters, and it is also the highest mountain in Izu Peninsula.
The warm and humid wind from Pacific Ocean often blows through Mount Amagi, then there is much rain around here.
Therefore, the area around Mount Amagi is covered with rich forests.
The climate, rich forests and clean water from the mountain are good for wasabi cultivation in this area.
So, wasabi production in Shizuoka Prefecture is the third highest in Japan.
Many wasabi farms are dotted in this area.
Kano River (狩野川) flows from the western mountainside of Mount Amagi to the north.
National Route 414 runs along the river, and some popular spots are on the route.
The route leads to Shuzenji to the north and Amagi Pass to the south.
Amagi Pass (天城峠) is on the dividing ridge at the southeast part of Mount Amagi.
It is located nearly at the center of Izu Peninsula, and the altitude is 830 meters.
Kawabata Yasunari (1899-1972, a Nobel Prize-winning author) wrote a famous novel Izu no Odoriko (The Dancing Girl of Izu) set in this pass.
And, an Enka (Japanese popular song) "Amagi-goe" is a big hit song in 1986, and it is one of the most favorite songs which Japanese people sing in karaoke.
("Amagi-goe" means "Passing Amagi Pass", but the song sings of the passionate emotion of woman!)
There is no observatory for tourist on the pass.
But many Japanese people are familiar with Amagi Pass by the novel and the song.
Yugashima Onsen (
湯ヶ島温泉

)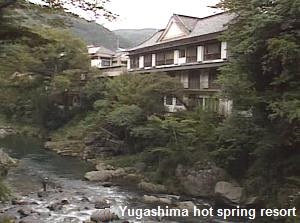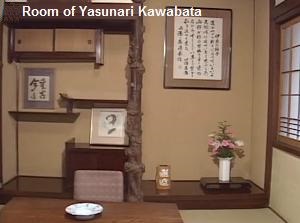 Yugashima Onsen is a hot spring resort located to the northwest of Mount Amagi, and is located about 10 km south of Shuzenji hot spring.
There are several ryokans along Kano river and its tributary.
It has been a hot spring to cure, so many long-stay travelers has visited here since a long time ago.
Yasunari Kawabata was also one of such travelers.
He written the novel "Izu no Odoriko" from 1922 to 1926 in the old ryokan "Yumotokan".
The room where he stayed is preserved.
Joren Falls (
浄蓮の滝

)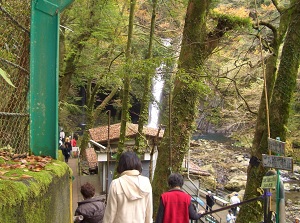 Stairs to Joren Falls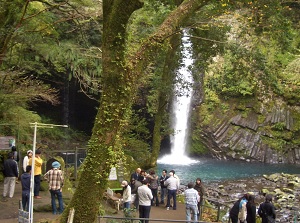 Joren Falls
Joren Falls is a waterfall in Kano River, and is located about 2 km south of Yugashima hot spring resort.
"O" in the word is pronounced long, so it is read as "Jôren no Taki" in Japanese.
It is about 25 meters high and 7 meters wide, and rich water falls swiftly.
It is the most largest waterfall in Izu Peninsula, and is the most popular spot in Amagi area.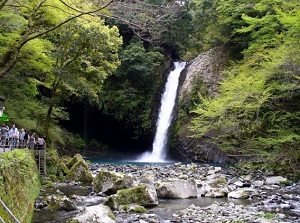 Joren Falls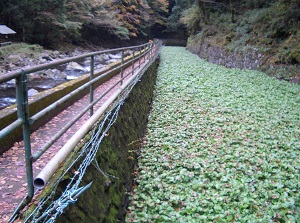 Wasabi field by Joren Falls
From the parking area to the observatory in the valley, visitors must go down the stairs with about 200 steps.
And there is a wasabi field near the observatory by the river.
Former Amagi Tunnel (
旧天城トンネル

)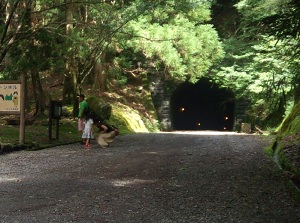 Entrance of Former Amagi Tunnel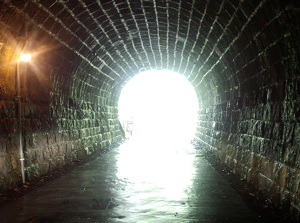 Former Amagi Tunnel
Former Amagi Tunnel is an old tunnel of National Route 414 under Amagi Pass.
It is located about 5 km south of Joren Falls.
The tunnel was built in 1904.
It is at the level of 711 meters and the length is about 445 meters.
Another tunnel parallel to the old tunnel was opened in 1970, so common vehicles run through the new tunnel now.
Old tunnel was constructed with only stone blocks, so it is designated as a nationally important cultural property.
The road in the tunnel very narrow and dark.
So you shouldn't pass through it by car.
Rather, most tourists enjoy walking through the tunnel.
I'll tell you one thing.
This tunnel is one of well-known haunted spots !!
Kawazu Nanadaru (
河津七滝

)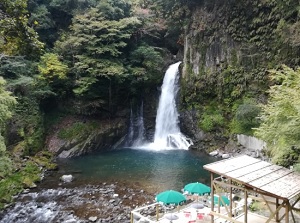 #1 Oodaru in Kawazu Nanadaru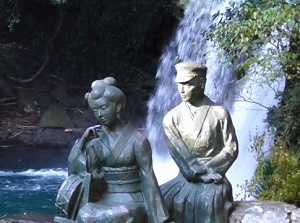 #4 Shokeidaru and statue of Izu-no-Odoriko
Kawazu Nanadaru is the group of seven waterfalls in Kawazu River.
It is located about 4 km south of Amagi Pass.
Kawazu River flows from near Amagi pass toward southeast.
And there are seven waterfalls within about 1.5 kilometers.
There is a parking lot near the lowest waterfall "Oodaru", and a walking trail for visiting all waterfalls is set up along the river.
And some statues of a dancer girl and her lover in "Izu no Odoriko" are put around the falls.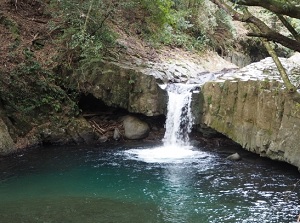 #5 Hebidaru in Kawazu Nanadaru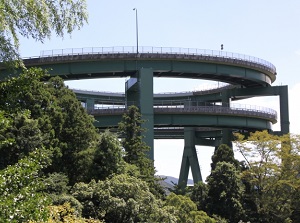 Kawazu Nanadaru Loop Bridge
Some onsen ryokans and minshukus are around the waterfalls.

And there is Loop Bridge of National Route 414 at the entrance to this spot.
To overcome the difference in height, the form is a spiral with two turns.
The diameter is 80 meters and the height is 45 meters.
And the length of whole bridge is 1,064 meters.
How to get here
From Shuzenji station, by route bus for Kawazu-eki, about 25 minutes to Yugashima, about 33 minutes to Joren Falls, about 42 minutes to Suishouchi-shita (Entrance to Former Amagi Tunnel), about 63 minutes to Kawazu Nanadaru.
From Kawazu station of Izukyu Line, about 25 minutes to Kawaza Nanadaru.
From Atami to Kawazu, by Izukyu Railway, about 1 hour and 15 to 25 minutes.
Hotels around Kawazu Nanadaru
Other Tourist Attractions in Shizuoka Prefecture
Around Mount Fuji
Around Izu Peninsula
Around Shizuoka city
Western area