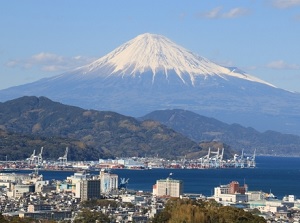 Mount Fuji from Nihondaira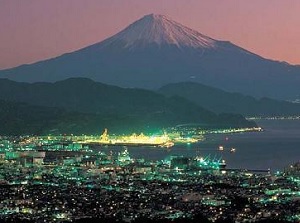 Evening view from Nihondaira
Nihondaira is an area around the top of hill.
It is about 11 km from Shizuoka station.
The hill is called Mount Udoyama (307 m), and there is Mount Kuno with Kunozan Toshogu shrine about 1 km south of this hill.
Tea farms and forests spreads on the hill.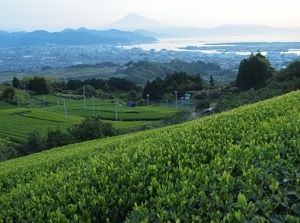 Tea farm around Nihondaira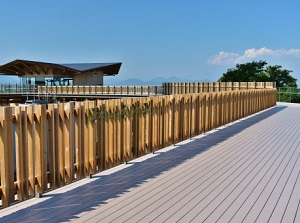 Nihondaira Yume Terrace
The top is a park with a few observatory.
Because there is no other high mountain around the hill, we can see the view of Mount Fuji, Izu Peninsula, central Shizuoka city, Shimizu Port and Suruga Bay.
The main observatory is Nihondaira Yume Terrace opened in 2018.
It has a loop corridor about 200 meters long.
In the central building, there are an observatory room, cafe and museum.
Near the park, a ropeway connecting between Nihondaira and Kunozan Toshogu.
How to get here
By route bus, about 45 minutes from Shizuoka station.
It is operated about every 1 to 1.5 hours.
Hotels in Shizuoka
Other Tourist Attractions in Shizuoka Prefecture
Around Mount Fuji
Around Izu Peninsula
Around Shizuoka city
Western area