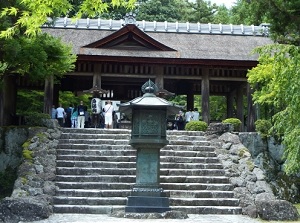 Worshippers in Kuonji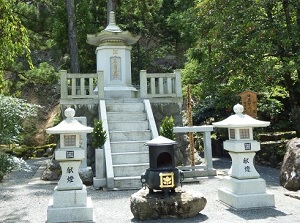 Tomb of Nichiren
Kuonji is a Buddhist temple and is in Minobu town located about 35 km south of Kofu city and about 28 km west of Mount Fuji.
The town is on the bottom of the valley formed by Fuji River, and Mount Minobu (1,153 m) is located to the west of the valley.
Kuonji is on the side of Mt. Minobu.
In 1274, a high priest Nichiren (1222-1282) was invited in this town.
He was the founder of Nichiren Buddhism which is one of the major schools of Japanese Buddhism.
He proposed that the government should accept his religion and all other religions would ruin the nation.
Therefore, he had been exiled to Sado Island from 1271 because of his extreme thoughts.
After he was released, he came to Mount Minobu.
He built a small temple and live there.
In 1281, he built a larger temple here and named the temple "Kuonji".
He positioned Mount Minobu as the sacred mountain, and he spent most of his last days in this temple.
After his death, the bones of him have been housed in this temple.
The precincts are located at the level of about 400 meters.
After we pass through the main gate, there is the stone stairs with 287 steps to visit the main temple.
The long stairs mean the way to "Nirvana" (Stage of emancipation in Buddhism).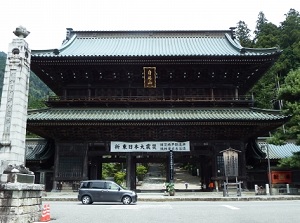 Sanmon gate of Kuonji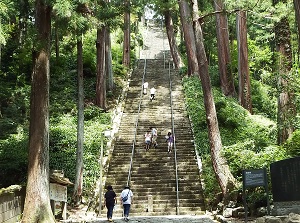 Bodaitei
The entrance gate Soumon (総門) is located at the foot of the mountain about 3 km west of JR Minobu station.
From here, we enter the sacred area.
There is an approach about 1.3 km long.
It is a temple town, and there are many restaurants and souvenir shops.
At the north end, there is the main gate Sanmon (三門).
From here, there is a long stone stairway with 287 steps.
It is called Bodaitei (菩提梯).
It means that you achieve a state of perfect enlightenment in Buddhism when you have climbed to the top.
There are many buildings in main precincts on the top of Bodaitei.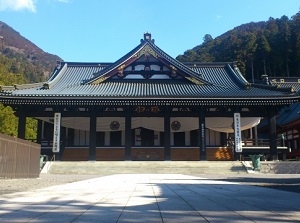 Main hall of Kuonji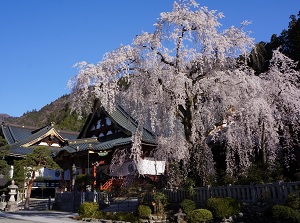 Soshidou and weeping cherry
The big main hall (本堂) was rebuilt in 1985.
The width is 32 meters and the depth is over 50 meters.
When Buddhist memorial service is held, the hall can accommodate 1,500 people.
Soshidou (祖師堂) is the building that Nichiren had been living, and has the tomb of him.
Around Soshidou, there are hundreds of weeping cherry trees.
We can see the cherry trees in full bloom from the end of March to early April.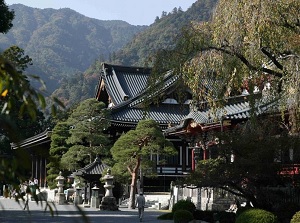 Main hall and Soshidou in Kuonji
Photo by Yamanashi Tourism Organization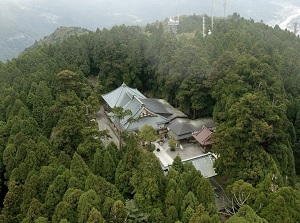 Okunoin-Shishinkaku on Mt.Minobu
Photo by Yamanashi Tourism Organization
And there is Okunoin-Shishinkaku (奥之院思親閣) on the top of Mount Minobu.
Nichiren was born in current Chiba Prefecture, so he built this building to see the direction of his hometown. (The town is located about 170 km east from this temple.)
Of course, we can see Mount Fuji from this place.
To visit Shishinkaku, the ropeway is convenient.
We can get on it near the main temple.
The difference of elevation is 763 meters.
So if you climb on foot, it takes about 2.5 hours.
There are many small Buddhist temples around Kuonji.
About 20 temples of them are shukubou.
Shukubou is a form of lodging for priests who are conducting ascetic practices, and accepts even the general tourists.
When you visit Kuonji, shukubou is also a choice for accommodation.
How to get here
By JR Minobu Line, get off at Minobu station.
From Kofu to Minobu, about 50 minutes by limited express.
From Shizuoka to Minobu, about 1 hour and 20 to 25 minutes by limited express.
Then, from Minobu station to Soumon gate (Minobusan stop), about 12 minutes by route bus.
Or, express bus is operated directly from Shinjuku in Tokyo.
It takes about 3.5 hours.
Hotels in Kofu
Other Tourist Attractions around Mount Fuji
Other Tourist Attractions in Yamanashi Prefecture