Tourist Attractions in Hakodate
Hakodate is a city located near the south end of Hokkaido Island.
This city has a population of about 260 thousand people, and is the third largest city in Hokkaido after Sapporo and Asahikawa.
In the 17th century, this city was opened as a trading point in Hokkaido.
In 1859, Hakodate became one of the five ports for foreign trade after changing the policy of isolation which had lasted over 210 years.
Therefore, many Western merchants stayed here, and several Western buildings and churches were built in the city.
Since then, Hakodate prospered as a central city in southern Hokkaido and as the entrance of Hokkaido from Honshu Island.
But since the 1970s, main local industries such as shipbuilding and long-distance fishing have declined.
Now Hakodate is living as a sightseeing city.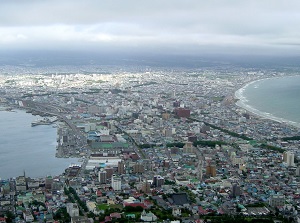 Scenery of Hakodate city from Mt.Hakodate
But having said that, fishery is the main industry of Hakodate, and especially squid of Hakodate is famous.
From late summer to autumn, we can see the many lights of squid fishing boats on the sea off the coast of Hakodate at night.
(The lights are called "isaribi" in Japanese.)
There is Mount Hakodate in the western side of city.

It was an island in the past, later it connected with sand bar.
The main part of the city was built on it.
There are several historic buildings built from the late 19th to early 20th century in the city.
Additionally a few popular scenic spots are in the suburbs of Hakodate.
How to get here
To Hakodate
By JR limited express, 3 hours and 40-50 minutes from Sapporo.
By Hokkaido Shinkansen, 4 hours and 0-20 minutes from Tokyo to Shin-Hakodate-Hokuto.
Then, transfer to local train and about 20 minutes to Hakodate station.
Airplane arrives at Hakodate Airport.
From the airport, about 20 minutes by express bus, about 33 minutes by route bus.
In Hakodate
Streetcar and buses are operated in the main area of the city.
Hotels in Hakodate
Other Tourist Attractions in Southern Hokkaido