Kanemori Red Brick Warehouse [
金森赤レンガ倉庫

]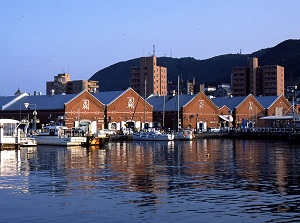 Kanemori Red Brick Warehouse
Photo by Hakodate city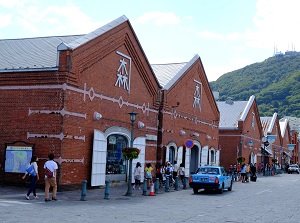 Kanemori Red Brick Warehouse
Photo by Hakodate city
Kanemori Red Brick Warehouse is a group of old warehouses near Hakodate Port.
It is located about 1.3 km southwest of JR Hakodate station.
The warehouses were built by Kanemori Warehouse company in 1909.
Trading in Hokkaido was very active at that time.
But warehouse business in this area had been declining since the middle of 20th century.
On the other hand, these warehouses were designated as historic buildings and were sometimes reported by the media.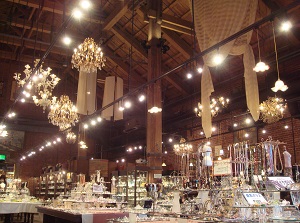 A shop in the Warehouse
Photo by Hakodate city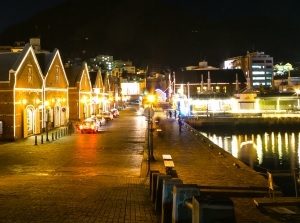 Warehouse area in the evening
So a part of the warehouses was changed to the facility with restaurants, shops and event halls.
Now this is one of most popular spots in Hakodate.
Large mark is written on the wall of each warehouse.
The sign of right angle is called "kane" and a kanji character is "mori".
It is the mark of the company.
How to get here
By street car, get off at Jujigai station, then walk for about 5 minutes from JR Hakodate station.
Or, walk for about 15 minutes from JR Hakodate station.
Hotels in Hakodate
Other Tourist Attractions in Hakodate