Hakodate Morning Market [
函館朝市

]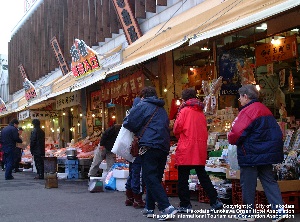 Hakodate Morning Market
Photo by Hakodate city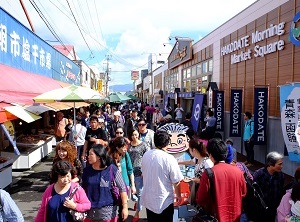 Street of Hakodate Morning Market
Photo by Hakodate city
Hakodate Morning Market is one of the famous morning markets.
It is called "Hakodate Asaichi" in Japanese.
It is located just south of JR Hakodate station.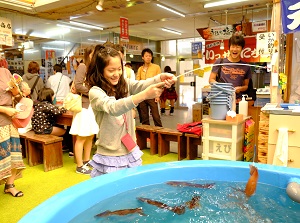 Squid fishing at a shop.
You can eat it as sashimi there.
Photo by Hakodate city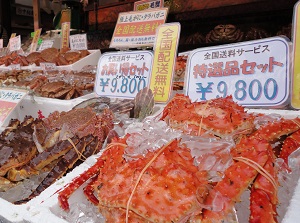 Crabs in a shop
Photo by Hakodate city
There are about 280 shops in about 150 meters square.
Sea products, vegetables, fruits, meats and so on are sold.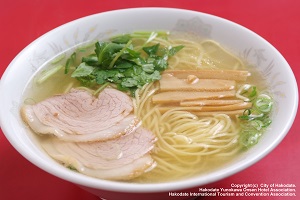 Hakodate Shio-Ramen
You can eat it as sashimi there.
Photo by Hakodate city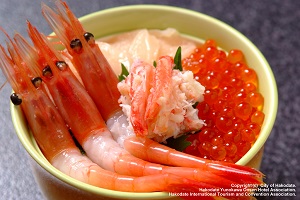 Kaisendon
Photo by Hakodate city
And a part of the area has over a dozen restaurants.
It is called Donburi-Yokocho.
You can eat popular "Hakodate Shio-Ramen" (Ramen noodle in simple salty soup) and "Kaisendon" (Rice pot topped with various fresh sashimi).
In 1945, after World War II, the farmers around Hakodate sold the vegetables here to get money.
It is said that this was the origin of the market.
On March 11, 2011, East Japan Great Earthquake occured and tsunami over 2 meters high came to Hakodate port.
Because this market is near Hakodate Port, the market had been destroyed by the tsunami.
But it was restored after about a month.
The market is open year-round.
It opens at 5:00 from May to December, at 6:00 from January to April, and closes at 14:00.
How to get here
Within a minute walk from JR Hakodate station.
Other Tourist Attractions in Hakodate