Kosetsuen (Miharashi Park) [
香雪園 (見晴公園)

]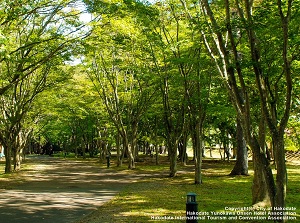 Miharashi Park
Photo by Hakodate city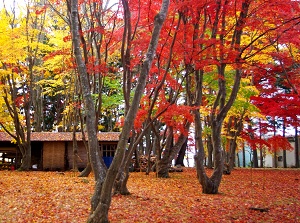 Miharashi Park in autumn
Photo by Hakodate city
Miharashi Park is a park located about 7 km east‐northeast of central Hakodate city.
It is also located about 2 km northeast of Yunokawa Onsen.
The west half of the area is a park with a lot of green, and the east half is a golf course.
Iwafune Family had been a wealthy kimono merchant in Hakodate, and the head of the family constructed a garden around 1898.
And he named the garden Kôsetsuen.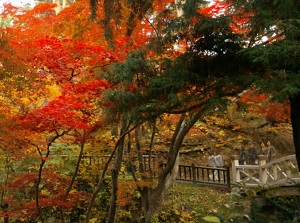 A path in Miharashi Park
Photo by Hakodate city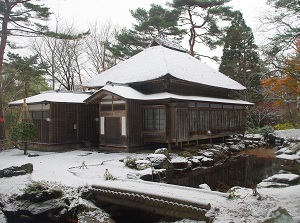 A cottage in Kosetsuen
Photo by Hakodate city
In the garden, there are a part of Japanese garden with a Japanese cottage and pond, a part with streem and waterfall, and a part with flower beds and Western-style greenhouse.
In 1955, Hakodate city bought this garden with neighboring golf course and the whole area was named as Miharashi Park.
In early May, cherry blossoms are in bloom.
And, in late October, it is also famous for its beautiful autumn leaves.
How to get here
By route bus, get off at "Kosetsuen" stop.
About 40 minutes from Hakodate station.
Hotels in Hakodate
Other Tourist Attractions in Hakodate