Motomachi area, churches & old buildings [
元町

]
Motomachi is an area located about 1.5 km southewest of Hakodate station.
The area is just between Hakodate Port and the foot of Mount Hakodate.
There are some streets which come down the gentle hill.
Along the streets paved with stones, there are some Western-style buildings and churches, and old Japanese buildings.
And the scenery overlooking the port is exotic.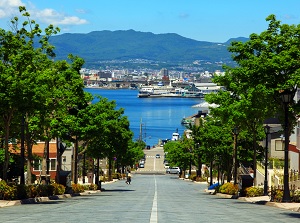 Hachiman-zaka
Photo by Hakodate city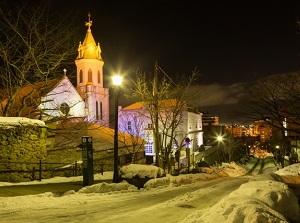 Daisan-zaka in winter
Hachiman-zaka [
八幡坂

]

It is a 270-meter slope street.
It runs straight from the center of Motomachi to Hakodate port.
It is located about 150 meters east from Suehiro-cho station of street car.

The view of Hakodate port from the slope is very popular.
Over the tree-lined street, you can see the port and find the railway ferry Mashu-maru in the center of the scenery.

This has ever been selected as the best slope with good scenery in Japan.

In addition, Daisan-zaka (大三坂) slope located 150 meters southeast, and Nijukken-zaka (二十間坂 ) slope located 230 meters southeast are also popular.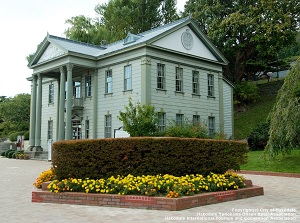 Hokkaido Prefectural Government's old office
Photo by Hakodate city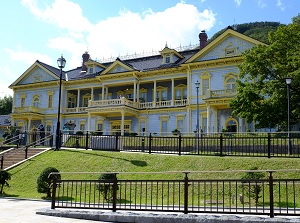 Former Public Hall of Hakodate Ward
Photo by Hakodate city
Motomachi Park [
元町公園

]

It is a park located about 150 meters northwest of Hachiman-zaka, and it is also one of good observatories.

In the park, there is a historic building.
It is Hokkaido Prefectural Government's old branch office (旧北海道庁函館支庁庁舎) built in 1909 and restored in 1982.
Originally, there was the government of Hakodate on the place of this park.

Now, its first floor serves as a Motomachi tourist information office, and the second floor is open to the public as the museum about Hakodate city.
Former Public Hall of Hakodate Ward [
旧函館区公会堂

]

It is a beautiful Western wooden building colored light blue and yellow built in 1910 as a public hall.
It is near Motomachi Park.

In 1911, Prince Yoshihito, who became the Emperor Taisho, stayed here.
Therefore this building has deluxe rooms and great hall.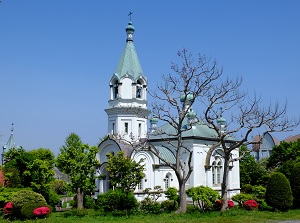 Russian Orthodox Church
Photo by Hakodate city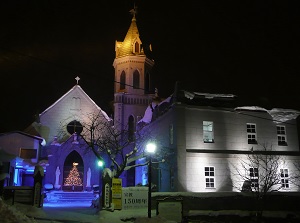 Motomachi Catholic Church
Photo by Hakodate city
Russian Orthodox Church [
ハリストス正教会

]

It is a church located about 0.3 km southeast of Motomachi Park.

First, a Russian consul built a shrine here in 1859.
Then it became the Japan's first Orthodox Church in 1861.
In 1907, it burnt down by great fire of the city, and current Russian-Byzantine church was rebuilt in 1916.

This is called "Harisutosu-Seikyokai" in Japanese.
"Harisutosu" is the Japanese pronunciation of a Greece word of "Christos" and means Christ.
And "Seikyokai" in Japanese means "Eastern Orthodox church".

The sound of the church bells is popular.

In addition, there is two other churches near this church.
They are Motomachi Catholic Church and St.John's Church Hakodate.
How to get here
By street car, get off at Suehiro-cho station, then walk for about 5 minutes from there to Motomachi Park.
Hotels in Hakodate
Other Tourist Attractions in Hakodate