Tobetsu Trappist Monastery [
当別トラピスト修道院

]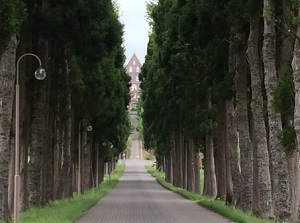 Road to Trappist Monastery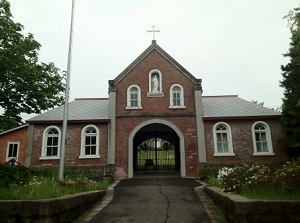 Trappist Monastery
Tobetsu Trappist Monastery is a Cistercian one.
It is located about 18 km west of Hakodate city and is in Tobetsu area in Hokuto city.
The monastery was established in 1896.
There are 40 monks in it.
The cookies and butter made by the monks are very popular souvenirs of Hakodate, and we can get them at many souvenir shops in Hakodate city and airport.
(In contrast, the souvenirs of Trappistine Convent are sold at only the convent.)
To the gate, there is a lovely avenue lined with trees.
Unfortunately, we can only see the buildings at the gate, so the visitors are not so much as Trappistine Convent.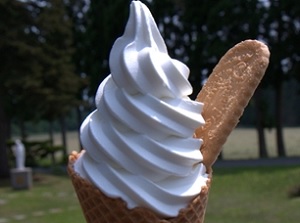 Soft serve ice cream with a Trappist Cookie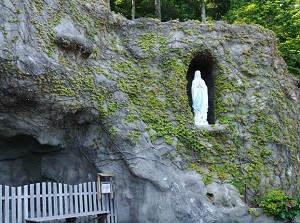 Cave and Statue of Virgin Mary
There is a shop selling such souvenirs in front of the gate.
From late April to late October, soft serve ice cream with the Trappist Cookie is sold and it is popular.
But there are another spot about the monastery.
It is Lourdes Cave ("Rurudo no dôkutsu" (ルルドの洞窟) in Japanese).
Lourdes is a town in France and is a holy town where Mother Mary appeared.
In 1910, such place was constructed on the hill about 1 km northwest of the monastery.
After you walk on a slope, you reach the place.
There is a cave, a spring, and a statue of Virgin Mary on a hill.
It is an observatory, and you can see the town of Hakodate and Honshu Island over the sea.
How to get here
By local train of Donan-Isaribi Railway, about 40 minutes from Hakodate to Oshima-Tobetasu.
The train only for Kikonai goes to the station.
In the daytime, only a few trains are operated.
From the station, about 1.5 km walk. (About 25 minutes)
Hotels in Hakodate
Other Tourist Attractions in Hakodate