Seikan Ferry Memorial Ship, Mashu-Maru [
青函連絡船記念館 摩周丸

]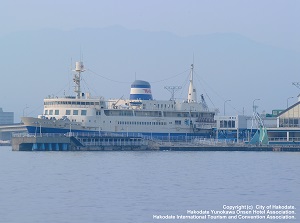 Mashu-maru
Photo by Hakodate city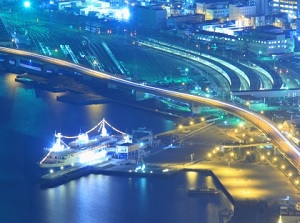 Mashu-maru & Hakodate station in the evening
Seikan Ferry Memorial Ship, Mashu-Maru is the museum of the railway ferry.
Seikan means "Aomori and Hakodate", and Seikan Ferry is operated between Aomori and Hakodate.
It sails across Tsugaru Strait, and connects Honshu Island and Hokkaido Island.
Now two shipping companies operate the general ferries on the route.
The route length is about 110 km, and the sailing time is about 3 hours and 50 minutes.
Until 1988, the railway ferry had been operated by Hokkaido Railway Company.
(Until 1987, it was operated by Japanese National Railways.)
The passengers who arrived at Hakodate and Aomori stations by train could go aboard on the railway ferry at the edge of the platform.
Of course, dozens of freight cars of railway were shipped on the ferry.
There were about ten round-trip operations in a day.
Each ferry started about 20 minutes later after main limited express train arrived.
On the other hand, the undersea tunnel called "Seikan tunnel" had been constructed on the west side of the strait since 1963.
The undersea tunnel for railway (53.9 km in length) completed in 1987 after overcoming the various difficulties.
Then, the operation of direct trains between Honshu Island and Hokkaido Island started from March in 1988 and the operation of railway ferry was abolished accordingly.
One of the ships used as the railway ferry is Mashu-Maru.
It went into service in 1965, and worked until the last day of service.
Now it is moored to the original pier and the inside is open to the public.
It is at only 200 meters from JR Hakodate station.
There is the museum about Seikan Ferry in the ship and you can visit the pilothouse.
How to get here
About 200 meters walk from JR Hakodate station.
Other Tourist Attractions in Hakodate