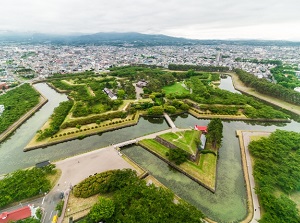 Goryokaku Park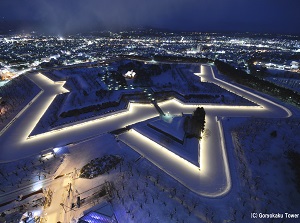 Illuminated Goryokaku in winter
Photo by Hakodate city
Goryokaku is a star-shaped moated fort.
In the word, second "o" is pronounced long, and it is read as "Goryôkaku" in Japanese.
It is located about 3 km northeast of JR Hakodate station.
The fort with this unique shape isn't seen in other parts of Japan.
In 1866, at the end of Edo period, it was built for strengthening homeland security against foreign countries.
European structure was adopted for battle by artillery.
But it was used only as the last stage of the battle between the new Meiji government and conservative samurai group in 1868.
Since that, it had become needless, then it was opened to the public as a historic park in 1914.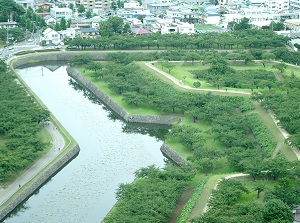 Moat & earthwork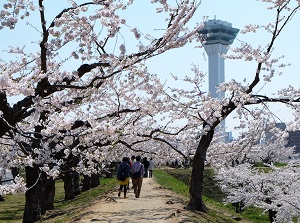 Sakura & Goryokaku Tower
Photo by Hakodate city
One side of the pentagon is about 300 meters long, and the width of the moat is about 30 meters.
The site is surrounded with earthwork.
The height is about 7.5 meters and the width of the top is about 8 meters.
There are also some stone walls in the site.
To enter the site, two bridges are set on the north side and the south side.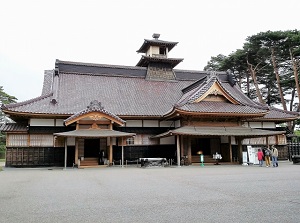 Hakodate Magistrate's Office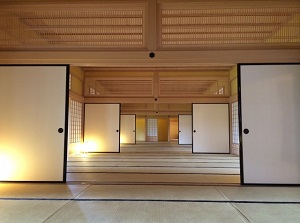 Inside of Hakodate Magistrate's Office
In the center of the site, Hakodate Magistrate's Office (函館奉行所, "Hakodate Bugyôsho" in Japanese) was constructed.
It was the govenment office in Hakodate, but was demolished in 1871.
And it was partially restored in 2010, so we can see the building in those days.
Now, the site of fort including the surrounding area is Goryokaku Park (五稜郭公園, "Goryôkaku Kôen" in Japanese).
It is one of popular cherry blossom-viewing spots in spring, and there are about 1,600 cherry trees including "Somei-Yoshino" in this park.
In addition, from December to February, the star-shaped moat is illuminated with 2,000 light bulbs.
A big star shape is appeard in the dark.
Out of the southwest side of the site, there is Goryokaku Tower which has a observatory for Goryokaku.
We can look down the star-shaped fort from heights of about 90 meters.
How to get here
By "Goryokaku-Tower Trappistine Shuttle Bus", about 15 minutes from Hakodate station to Goryokaku-Tower.
It is operated every 30 minutes from April to October, every 1 hour from November to March.
Or, by street car, get off at Goryokaku-koen-mae station.
Then walk for 12 minutes (700 meters)
Hotels in Hakodate
Other Tourist Attractions in Hakodate