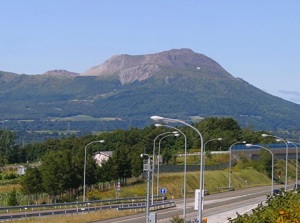 Mt.Usu from southwest side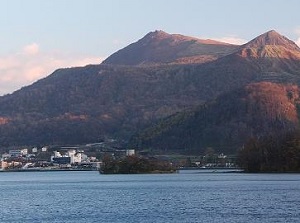 Mt.Usu & Toyako onsen resort from Lake Toya
Mount Usu ("Usuzan" in Japanese) is an active volcano 737 meters high.
The top is located only 3 km south-southeast of the hot spring resort of Lake Toya.
It is one of most active volcanoes in Japan, then it erupted four times within last 100 years (in 1910, 1944, 1977 and 2000).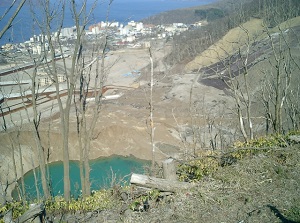 New crater appeared in 2000,
and Toyako onsen town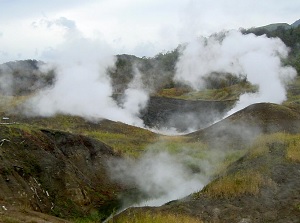 Volcanic fumes from the craters
When it erupted in 2000, the volcanic activity was very powerful.
But, because the preparations on a routine basis were complete, about 16,000 residents living in the vicinity of this volcano escaped the disaster quickly, then it caused no death.
However, the resort area and the sightseeing of Lake Toya were closed for half a year.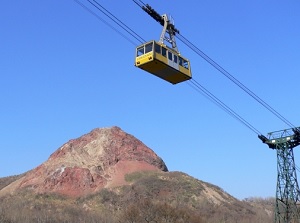 Mt.Usu Ropeway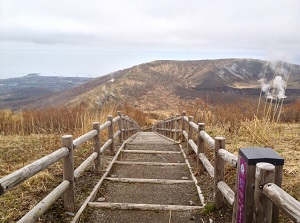 Walking trail around the top of Mt.Usu
You can go up to the top of the mountain with a ropeway, which is on the east slope.
The boarding point is at the foot of Showa-shinzan volcano.
You have a view of the Lake Toya, Showa-shinzan, Uchiura Bay connecting with the Pacific Ocean and some craters fuming volcanic smoke.
How to get here
By route bus, about 15 minutes from "Toyako Onsen" terminal (the hot spring resort of Lake Toya) to "Showa-shinzan" stop.
You can get the ropeway there.
Hotels around Lake Toya
Other Tourist Attractions in Southern Hokkaido