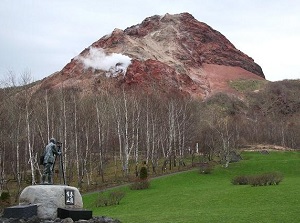 Showa-shinzan & the statue of Masao Mimatsu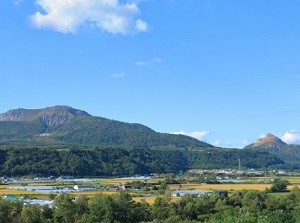 Showa-shinzan (right) & Mt.Usu (left)
Showa-shinzan is a volcanic lava dome which is 398 meters above sea level.
It is located 2 km east of Mount Usu.
In Japanese, "o" in the word is a long vowel, so it is pronounced as "Shôwa-shinzan".
"Showa" means the period of Emperor Showa (1926-1989), and "shinzan" means "new mountain".
Surprisingly, this mountain was formed within 2 years between December 1943 and September 1945 in Showa period.
Originally here were the fields of wheat.
An earthquake caused on December 28, 1943.
Suddenly, the land began to rise and a volcano appeared.
After some craters erupted 17 times for four months, a volcanic lava dome was formed.
From December in 1944, the lava dome about 10 meters high began to grow.
The height lengthened over 170 meters, then the growth stopped on September 20, 1945.
And, the current mountain was completed.
At that time, Japan was in the middle of Pacific War (World War II).
Therefore Japanese army forbade to survey and report this abnormal change.
But Mimatsu Masao (1888-1977, a postmaster living nearby) had been making a continual observation and an exact record personally.
In 1948, after the War, his valuable records were presented at a conference about volcano held in Oslo in Norway.
And it received acclaim from many academians.
Mr.Mimatsu bought the land including whole this volcano for preserving the valuable mountain and supporting the people who had lost the wheat fields.
Therefore, the volcano is the private land of Mimatsu family.
We can look up this mountain at the foot.
And we can visit Mimatsu Masao Volcano Memorial Museum there.
It displays his records and other materials.
Of course, there are restaurant and souvenir shops.
And there is the ropeway station to Mt.Usu.
How to get here
By route bus, about 15 minutes from "Toyako Onsen" terminal (the hot spring resort of Lake Toya) to "Showa-shinzan" stop.
Hotels around Lake Toya
Other Tourist Attractions in Southern Hokkaido