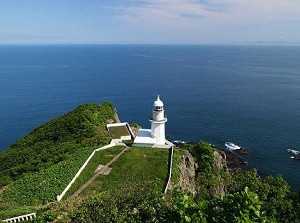 Cape Chikyu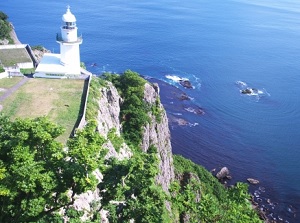 Cliff of Cape Chikyu
Cape Chikyu ("Chikyû-misaki" in Japanese) is located south of urban area of Muroran city.
Muroran is an iron industrial city, and is located about 90 km south-southwest of Sapporo city.
The location of the cape is the northern entrance of Uchiura Bay.
The west side of the cape is Uchiura Bay and the east side is the Pacific Ocean.
It looks like an apex of a triangle on a small‐scale map.
The coastline around this cape has steep cliffs over 100 meters high, and the length is about 14 kilometers.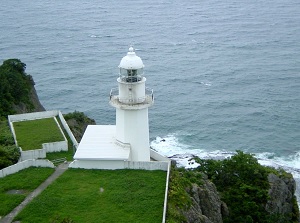 Lighthouse of Cape Chikyu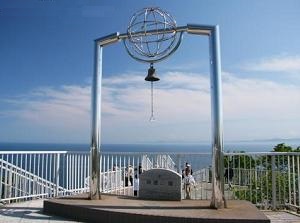 Bell of happiness
On the tip of the cape, there is an observatory and a white lighthouse stands near it.
The observatory is at the level of 147 meters, and we can enjoy a view of wide Pacific Ocean.
"Chikyu" means "earth" in Japanese.
But it is originally a word of Ainu language, and it means "cliffs".
When we look at the horizon there, it seems to curve.
So we realize that the earth is round.
Around of the observatory, there is Bell of happiness.
If you ring the bell, it is said that you will be happy.
It is one of the popular spot in Hokkaido.
How to get here
By limited express from Sapporo to Higashi-Muroran station, it takes about 1 hour and 20 minutes.
Then by local train of branch line to Muroran station, it takes 13 minutes.
From the station, get on the route bus for "Chikyu-misaki danchi". It takes 15 minutes.
From the terminal, on foot about 20 minutes to the observatory.
Hotels in Muroran city
Other Tourist Attractions in Southern Hokkaido