Okushiri island is located about 60 km northwest of Esashi port.
Esashi port is on the west coast of Oshima Peninsula and is located about 50 km west of Hakodate city.
The island is about 10 km from east to west and about 25 km from north to south.
The highest mountain is 584 meters high, and the land is not so steep but hilly.
Over 90% of the land is covered with wild forests and fields.
Because there are many beech trees in the forests, the land has high water retentivity.
Therefore, this island never lack for water.
Unlike the mainland of Hokkaido, there is no bear, fox and venomous snake in this island.
So, here is a paradise for hares, raccoon dogs, common pheasant, etc.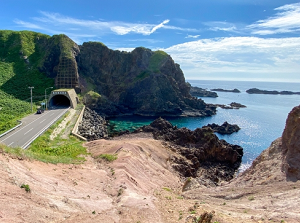 Coast in Okushiri Island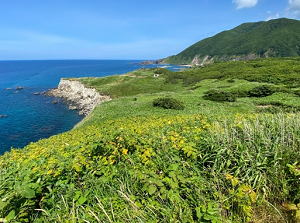 Coast around Kamuiwaki Onsen
Only about 2,700 people live in this island.
There are two main villages in this island.
On the east coast, there is Okushiri (奥尻) village.
There is a port, so it is the entrance by ferry.
At the south end of the island, there is Aonae (青苗) village.
There is an airport and it operates the flight from Hakodate.
In addition, a great earthquake occured near this island on July 12, 1993 and the tsunami destroyed Aonae village.
230 people were left dead or missing by the tsunami.
Main attractions of Okushiri are the nature of the island.
Especially, the coast around the island is reefy and many uniquely shaped rocks are seen.
And the water of the sea is very clear.
Main industry of the island is fishery.
Sea Urchin ("uni" in Japanese) is the specialty of this island.
In any ryokan, inn and restaurant, the dishes of fresh sea urchin are served.
And, there is the monument of sea urchin and the mascot of the island is also sea urchin named "Unimaru".
In addition to that, abalone ("awabi" in Japanese) and squid are very fresh and tasty.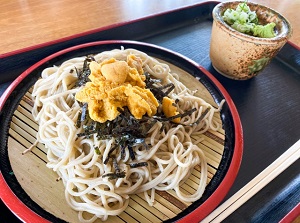 Soba noodle with sea urchin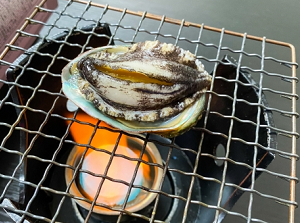 Grilled abalone
There is Okushiri Winery in this island.
It was established in 2008, but it is producing good wine.
The grapes are exposed to the sea-breeze and include the mineral constituents in seawater.
And delicious water from the forest is used.
In 2015, the wine won a prize at a wine competition in Japan.
The good season to travel around Okushiri island is summer.
Sea urchin is the best season in July and August.
To travel around the island, you can use route bus, taxi, and rental car.
Main spots in the island are the following.
Around Okushiri village and east coast
Nabetsuru Rock : A large rock like an arch.
The height is 19.5 meters and it is the symbol of Okushiri island.
It is located about 0.8 km south of Okushiri village.
Unimaru Monument : A monument of sea urchin.
It stands in a park and is illuminated in the evening.
You can see the mailand of Hokkaido over the sea at the park.
It is located about 2.2 km south of Okushiri village.
Miyatsu Bentengu Shrine : A shrine on a big rock on the coast.
It was built in 1831.
You can go up to the shrine by the steep stair.
It is located about 5 km northeast of Okushiri village.
Sai-no-kawara : A sacred place around the cape.
Countless natural stones are stacked to console the victims of many marine accidents around the cape.
It is located about 10 km north-northeast of Okushiri village.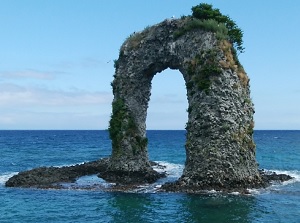 Nabetsuru Rock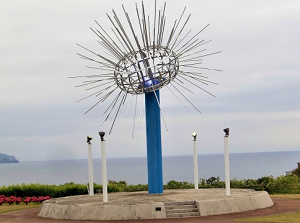 Unimaru Monument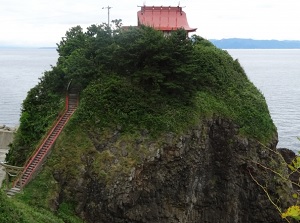 Miyatsu Bentengu Shrine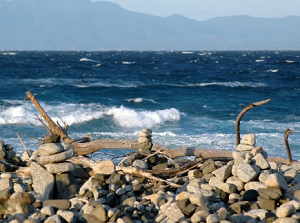 Sai-no-kawara
Around Aonae village and west coast
Tsunami Memorial Hall : A museum about the tsunami in 1993.
It introduces the reports of the tsunami and the restoration.
There is the memorial monument "Jikusho".
It is located at the south part of Aonae village.
Muenjima Coast : A coast near a small rock island "Muenjima".
It is a bathing beach in summer.
It is located about 6 km north-northwest of Aonae village.
Hoya-ishi : A tall and big rock on the coast.
"Hoya" means "sea squirts" and "ishi" means "stone".
There is a waterfall near the rock.
It is located about 0.3 km north of Muenjima Coast.
Kitaoi-misaki Park : A park with the monuments of modern art.
Some monuments are put on a park on the cape.
It is located about 12 km north of Aonae village.
Kamuiwaki Onsen : The only hot spring facility in Okushiri island.
There are a few inns and hot spring facility.
It is located just north of Kitaoi-misaki Park.
There is Okushiri Winery near the area.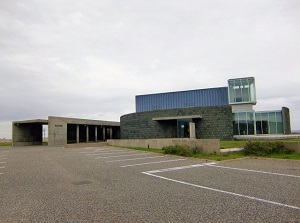 Tsunami Memorial Hall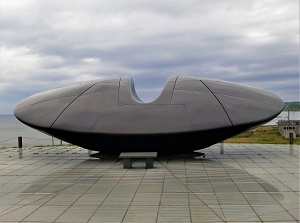 Jikusho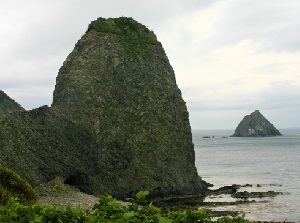 Hoya-ishi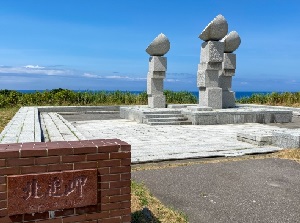 Kitaoi-misaki Park
How to get here
By domestic flight, about 30 minutes from Hakodate airport to Okushiri airport.
(One round services per day)
By ferry, 2 hours and 20 minutes from Esashi port to Okushiri port.
(2 round services per day from May to the middle of November, but 1 round service per day in the other period).
To Esashi port, by route bus for Esashi, 2 hours and 15 minutes from Hakodate station.
Get off at Ubagami-cho Ferry-mae stop.
Other Tourist Attractions in Southern Hokkaido