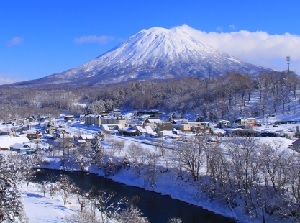 A town on the west foot of Mt.Yotei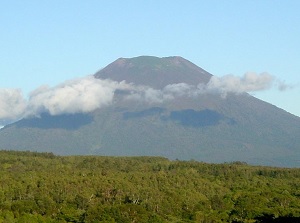 Mt.Yotei in summer
Mount Yotei ("Yôteizan" in Japanese. "O" is a long vowel.) is a beautiful mountain located about 50 km south-southwest of Otaru city.
Niseko ski resort is located about 10 km west-northwest.
And, Lake Toya is located about 30 km south.
You can find this mountain at the spots.
It is 1,898 meters high and the shape is similar to Mount Fuji.
Therefore, it is often called "Ezo-fuji" ("Ezo" is an old name of Hokkaido).
It is a solitary mountain, therefore we can see it from every side.
This is a volcano, but the last eruption was about 6,000 years ago.
Many birds and animals live around this mountain.
At the foot of this mountain, there are several springs of delicious water.
There is no road of the climb for car.
Four trail to the top are set, it takes about 4 to 6 hours to climb.
Therefore, Mount Yotei is not the mountain to climb but the mountain to see.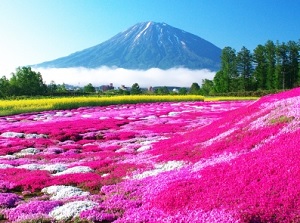 Mishima-sanchi no Shibazakura Garden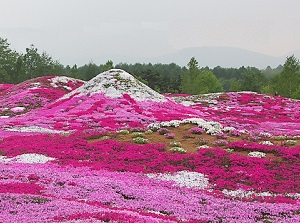 Mini-Yotei in the garden
Mishima-sanchi no Shibazakura Garden
It is a moss phlox garden of Mishima family.
In Japanese, "moss phlox" is called "shibazakura".
It is located about 0.7 km northwest of JR Kutchan station.
Recently, this place has been known as a good scenic view of Mt.Yotei.
And Mishima family opens the garden to the public.
Pink flowers of moss phlox cover the garden.
And you can see Mt.Yotei far away.
The season is from early May to early June.
How to get here
To Mishima-sanchi no Shibazakura Garden, about 0.7 km walk from JR Kutchan station.
Hotels in Kutchan
Other Tourist Attractions in Southern Hokkaido