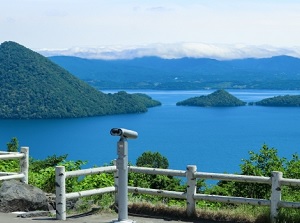 Lake Toya from an observatory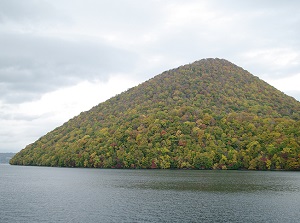 Nakajima in Lake Toya
Lake Toya is a freshwater caldera lake located about 60 km southwest of Sapporo, and it is located about 40 km west-southwest of Lake Shikotsu.
In Japanese, "o" in "Toya" is a long vowel, so it is pronounced as "Tôya". ("Lake Toya" is "Tôya-ko" in Japanese.
It is nearly circular and is about 10 km in diameter.
In the center of the lake, there are a big island (Nakajima) and three small islands.
This lake doesn't freeze in winter.
Lake Toya was formed by eruption of a volcano about 100 thousand years ago.
The eruption was very powerful, then the volcanic ashes are found throughout northern Japan.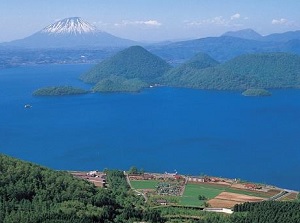 Lake Toya and Mt.Yotei
Photo by Toyako Onsen Tourist Association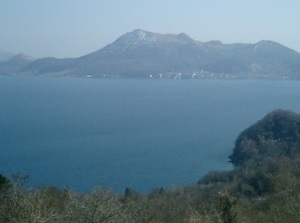 Mt.Usu and Toyako onsen town
from the northrn shore of Lake Toya
On the south side of the lake, there is a very active volcano Mount Usu (737 m).
And, we have a beautiful view of Mount Yotei distantly over the lake from the town.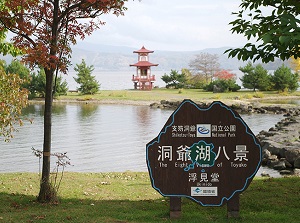 Ukimido pagoda by the lakeside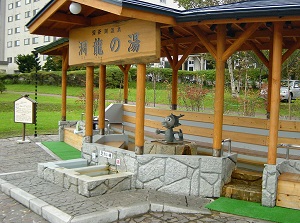 Footbath in Toyako onsen resort
There is Toyako hot spring resort on the southern shore, and more than a dozen hotels are located.
Sightseeing ship leaves from the resort area.
It is operated every 30 minutes from the middle of April to early November.
It takes about 50 minutes to cruise round.
You can land on the central island, then you can take the next ship from the island.
In July 2008, the G8 summit (Inter-governmental political forum) was held here.
How to get here
By JR limited express between Sappro and Hakodate, about 1 hour and 45 minutes from Sapporo to Toya station, about 1 hour and 40 minutes from Hakodate.
Then, by route bus, about 18 minutes from JR Toya station.
By express bus, about 2 hour 45 minutes from JR Sapporo station.
Hotels around Lake Toya
Other Tourist Attractions in Southern Hokkaido