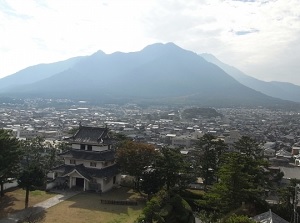 Mount Unzen from Shimabara Castle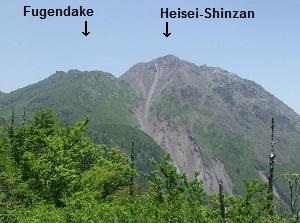 Fugendake and Heisei-Shinzan of Unzen
Mount Unzen ("Unzendake" in Japanese) is an active volcano, and is located in the center of Shimabara peninsula.
Shimabara city is located at the foot of the mountain and about 8 km east-northeast of the mountain.
The volcano has some peaks, and the main peak is Fugendake (普賢岳, 1,359 m) and the highest peak is Heisei-Shinzan (平成新山, 1,483 m).
From 1989, this volcano showed signs of volcanic activity.
Then, it erupted on November 17, 1990.
Small-scale pyroclastic flows occured on the eastern mountain side, so Shimabara city had been on the alert.
At last, a great-scale pyroclastic flow occured on June 3, 1991.
It sacrificed 43 peoples (newspersons, firemen, policemen, volcanists).
This accidents were caused by the extensive media coverage on the constant pyroclastic flows, because some newspersons were out of the safe area to capture the moment.
Since that, the caution zone was stretched, and more than 10 thousand peoples in Shimabara city and the surrounding towns were forced to evacuate.
The eruption activity stopped in 1995.
Fugendake peak is the main point of the eruption.
It created a new huge dome of lava at about 500 meters east of Fugendake peak.
It was named "Heisei-Shinzan" and had grown higher than Fugendake.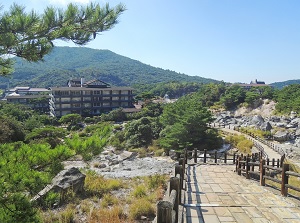 Unzen Onsen
Photo: Kyushu Tourism Promotion Organization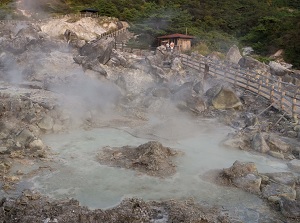 Unzen-Jigoku
Photo: Kyushu Tourism Promotion Organization
Though, Unzen has been a tourist resort since ancient times.
There is Unzen Onsen (雲仙温泉) hot spring resort at about 5 km southwestern foot of Fugendake peak.
Manmyoji temple was established in the area in 701.
As a hot spring resort, the first hot-spring house was opened in 1653.
There are about a dozen of hotels and ryokans, and some public bathhouses are in this resort town.
There is a field that hot spring and volcanic gas are spouting near the onsen town.
It is called Unzen-Jigoku (雲仙地獄).
"Jigoku" means "hell", and the sight is surely a hell.
Matsukura Shigemasa (1574-1630) was the first lord of Shimabara Domain and suppressed Christianity in the 1620s.
Captured Christians by a command of him were tortured and killed in the boiling water in Unzen-Jogoku.
There is a small lake "Shirakumo-no-ike" (白雲の池) to the south of the onsen town.
It is surrounded with forest and there is a camp site.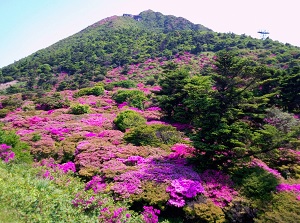 Myokendake from Nita-toge in spring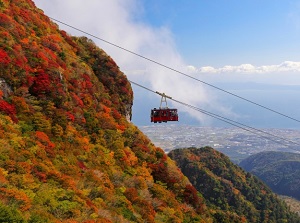 Unzen ropeway in autumn
Nita-tôge pass is about 4 km northeast of the onsen town, and a ropeway is operated near Myôkendake peak (妙見岳, 1,333 m).
It is located about 700 meters southwest of Fugendake peak, and we can see Fugendake and Heisei-Shinzan peaks nearby from the observatory.
How to get here
By JR limited express, to Isahaya, about 20 minutes from Nagasaki, about 1 hour 40 to 55 minutes from Hakata.
Then, by route bus, from Isahaya to Unzen-onsen, about 1 hour 25 minutes.
Or, from Shimabara station, about 50 minutes by route bus.
Hotels around Unzen
Other Tourist Attractions in Nagasaki Prefecture
Nagasaki city
Other areas in Nagasaki Prefecture