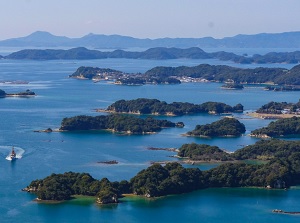 Kujukushima from Ishidake Observatory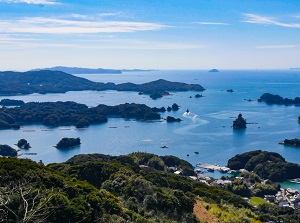 Kujukushima from Ishidake Observatory
Kujukushima is a group of islands along the intended coast to the northwest of Sasebo city.
Sasebo is located about 80 km north of Nagasaki city and about 60 km west of Saga city.
In the word, the second "u" is pronounced long, so it is read as "Kujûkushima".
"Kujuku" means "99" in Japanese, but it means "many" in a figurative sense.
Officially, There are 208 islands along the coastline within a range of 30 km.
The scenery is attractive and the view of sunset is beautiful because of western coast of Kyushu.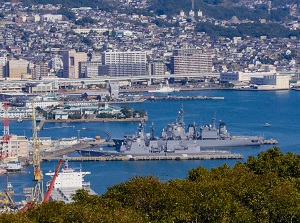 Sasebo city & ships of Maritime Self Defense Force
from Ishidake Observatory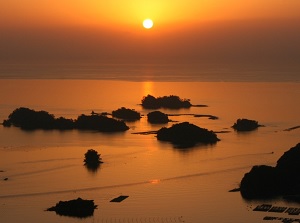 Sunset scene at Ishidake Observetory
The most popular observatory is Ishidake Observatory (石岳展望台).
It located on a hill about 6 km west-southwest of central Sasebo city, and the sea is about 1 km west of the observatory.
The sunset scene at Ishidake Observetory appears at the beginning of a hit movie "The Last Samurai" in 2003.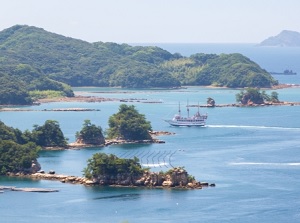 Pleasure ship in Kujukushima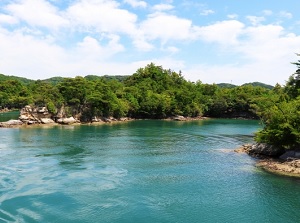 View from pleasure ship of Kujukushima
The pleasure ships are operated from Kujukushima Pearl Sea Resort.
It is by the sea located about 1 km northwest of Ishidake Observatory, and is about 4 km west of central Sasebo city.
It is a complex facility with the port of the pleasure ship, aquarium, restaurant and souvenir shops.
How to get here
From Hakata to Sasebo, by JR limited express, about 2 hours.
From Nagasaki to Sasebo, by rapid train of JR Omura Line, about 1 hour 40 minutes.
From Sasebo station to Ishidake observatoty, by route bus, about 28 minutes to Doshokubutsuen-mae stop.
Then, 10 minutes walk (about 800 meters).
To Kujukushima Pearl Sea Resort, by route bus, 17 minute from Sasebo station.
Hotels around Kujukushima Pearl Sea Resort
Other Tourist Attractions in Nagasaki Prefecture
Nagasaki city
Other areas in Nagasaki Prefecture