Shinchi Chinatown [
新地中華街

]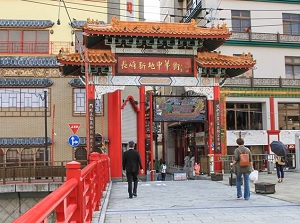 North gate of Shinchi Chinatown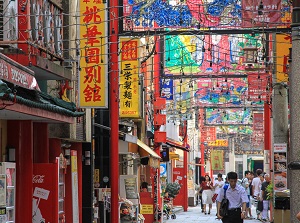 Street of Shinchi Chinatown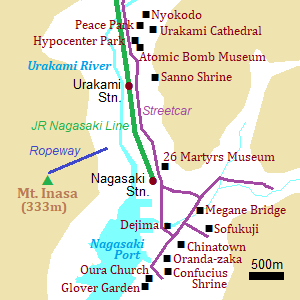 Shinchi Chinatown is located about 250 meters southwest of Dejima and about 1.4 km south of Nagasaki station.
In Japanese, it is called "Shinchi Chukagai".
The area is about 100 meters from east to west and about 150 meters from north to south.
Two narrow streets cross in the center of the area, and there are four entrance gates at the both ends of two streets.
Along the streets, there are about 30 Chinese restaurants and various shops.
Under national isolation in Edo Period (1603-1868), trading with China had been allowed in Nagasaki.
About 10,000 Chinese people lived in Nagasaki at its peak, and they accounted for one-seventh of the population of Nagasaki city.
Many of them were from Fujian Province in the southeast part of China.
Japanese government ordered Chinese people to live around the hill to the south of current Chinatown.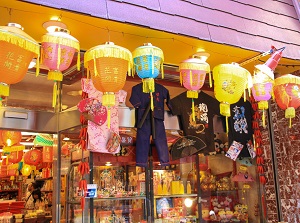 A shop in Shinchi Chinatown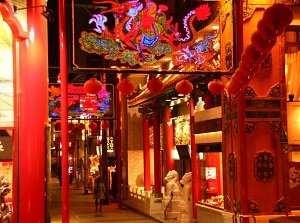 Shinchi Chinatown at night
Originally, this area was in the sea.
In 1698, the storehouses for Chinese people were destroyed by fire.
Therefore, this area was constructed by reclaiming land from the sea for the storehouses, and "Shinchi" meaning "new land" was named.
In 1859, Japanese government abandoned national isolation, and Nagasaki was opened as an international port.
Some Chinese people moved from the area on the hill to Shinchi district.
Then, the Chinatown has been formed.
Now, Shinchi in Nagasaki is one of the major three Chinatowns in Japan, along with Yokohama and Kobe.
Nagasaki Lantern Festival is the annual event for about two weeks from the Chinese New Year's Day, and Shinchi Chinatown is the main site of the festival.
How to get here
By street car with route No. 1 or 5, get off at Shinchi-Chukagai stop.
Hotels around Shinchi Chinatown
Other Tourist Attractions in Nagasaki Prefecture
Nagasaki city
Other areas in Nagasaki Prefecture