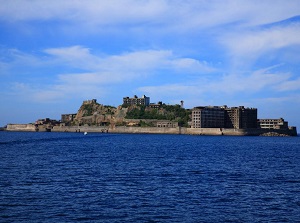 Gunkanjima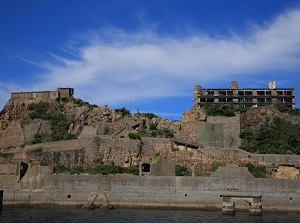 Gunkanjima from the sea
Gunkanjima is a small island located about 18 km southwest of Nagasaki Port.
The formal name is Hashima (端島).
"Gunkan" means "warship".
In fact, this island looks like a warship from a distance.
The length is about 480 meters and the width is about 160 meters.
From the air, the shape of the island is similar to an aircraft carrier.
The whole coastline is surrounded with concrete embankments.
The island has a small rocky hill, but the ruin of modern buildings on the island is very impressive.
Originally, this island was a small reef in the sea.
In 1810, coal was found in this reef.
This reef became a possession of Mitsubishi company syndicate in 1890.
And it had been developed as a coal mine.
By the 1930s, the sea around the reef were landfilled and an island was completed.
Many modern apartment buildings were built on the site for the worker's family.
And schools, hospital, barber shops, Buddhist temple, movie theater, etc. were set up, so this island became a modern city.
At its peak in 1960, more than 5,200 people lived in this island.
The standard of living in this island was the highest in Japan.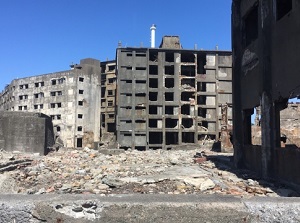 Ruin of the town in Gunkanjima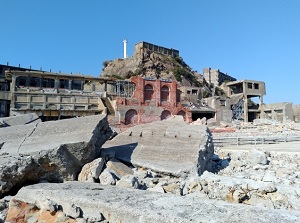 Ruin of the pit mouth of coal mine
But since then, main energy had been shifted from coal to oil.
The coal production rapidly declined, and the population had been decreasing.
The coal mine was closed in 1974.
All of the remaining 2,000 residents had left the island in the year.
This island became a ghost town and returned a desert island.
The island was transferred from Mitsubishi to Nagasaki city in 2001.
Because the ruined buildings in the island were dangerous, landing to the island had been forbidden for a long time.
Since 2009, a part of the island has been opened for tour.
And it was designated as World Heritage site in 2015.
We can visit this island by guided tours from Nagasaki Port.
A few shipping companies in Nagasaki hold the tour.
The landing tour requires advanced reservations.
And, if the whether is bad, the tour may be cancelled.
Also, the tours of only sailing around the island are operated.
How to get here
The tour starts around Nagasaki Port Terminal.
By street car with route No. 1 or 5, get off at Ôhato or Ôura-kaigan-dori stop.
The landing tour takes about 3 hours, and the sailing tour takes about 2 hours.
Hotels around Nagasaki city
Other Tourist Attractions in Nagasaki Prefecture
Nagasaki city
Other areas in Nagasaki Prefecture