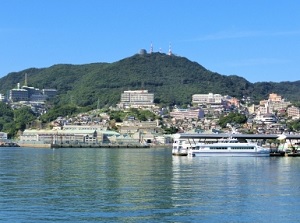 Mount Inasa

Observatory of Mt. Inasa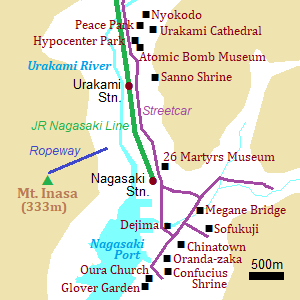 Mount Inasa ("Inasayama" in Japanese) is a mountain located to the west of central area of Nagasaki city.
Its altitude is 333 meters, and the top of the mountain is located about 1.5 km from the foot.
There is an observatory on the top of the mountain, and we can see the wonderful view of the Nagasaki city.
The distance between this observatory and the main spots in Nahasaki city is about 2 to 4 km, so we can see them quite clearly from the observatory.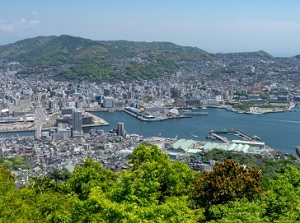 View of Nagasaki Port from Mount Inasa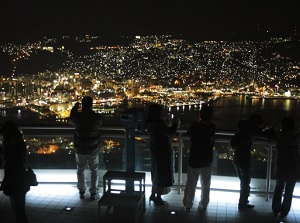 Night view from the Observatory of Mt. Inasa
Especially, it is said that the night view from the top is one of three major ones in Japanese, along with Mount Hakodate in Hakodate city and Mount Rokko in Kobe city.
A ropeway is operated from the foot to around the observatory.
How to get here
By street car with route No. 1 or 3, get off at Takaramachi stop.
Then, about 15 minutes walk (about 1 km) to Fuchi-jinja shrine.
The ropeway starts from the precinct in the shrine.
For night view, free shuttle bus to Fuchi-jinja station of the ropeway is operated from 19:00 to 22:00.
The bus stops at a few major hotels and JR Nagasaki station.
Hotels around Mount Inasa
Other Tourist Attractions in Nagasaki Prefecture
Nagasaki city
Other areas in Nagasaki Prefecture