Twenty-Six Martyrs Museum [
日本二十六聖人記念館

]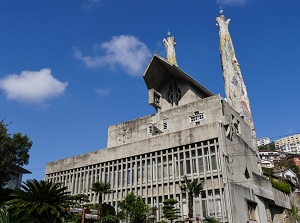 26 Martyrs Museum and the church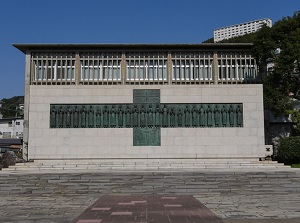 Monument of 26 Martyrs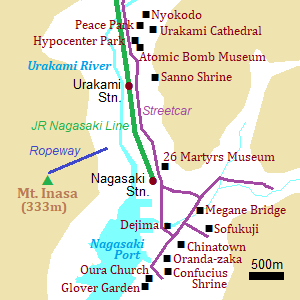 Twenty-Six Martyrs Museum is located on Nishizaka Hill in front of JR Nagasaki station.
In 1541, the Society of Jesus sent Francisco de Xavier, a Catholic missionary, to Asia.
He came to Japan through India in 1549.
That was the first time when Christianity was introduced to Japan.
After that, the Western missionaries were engaged in missionary work in the western Japan, under the agreement of the local lords.
They got many believers, and some lords also converted to Christianity.
In the 1580s, Toyotomi Hideyoshi (1537-1598) unified Japan after a century of war, and became the head of Japan.
He was in favor of Christianity at first.
But he heard that the Christian lords persecuted Buddhism, the missionaries ate "cows" (beef), the Westerner sold Japanese people into slavery.
Hideyoshi was angry at the behaviors putting a country into confusion, so he banned the Christianity and trading with Western countries in 1587.
After that, the Society of Jesus had refrained voluntarily from the missionary work.
Nevertheless Franciscans had been very active.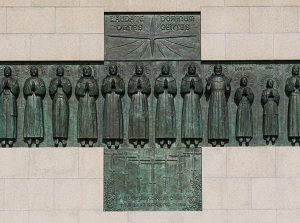 Monument of 26 Martyrs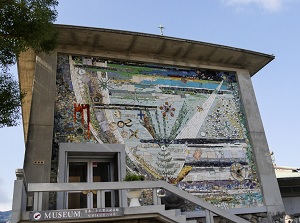 Wall of Twenty-Six Martyrs Museum
Hideyoshi ordered to catch Franciscans in Japan and the Japanese believers in 1596, at last.
And 26 Christians were caught in Kyoto and Osaka.
They were 6 Western bishops and monks and 20 Japanese Christians.
They were dragged through the streets in Kyoto, then they were sent to Nagasaki.
And they were put to death by piercing with spears, at Nishizaka Hill on February 5th, 1597.
They became the Japan's first martyrs.
They were sainted by Pope Pius IX (1792-1878) in 1862.
And Oura Catholic Church was built for them in 1864.
It faces the place.
In 1962, this museum was built on the place in celebration of the 100th anniverary of their canonization.
There are the museum, a church and a monument.
In 1981, Pope John Paul II visited here.
How to get here
About 5 minutes walk from JR Nagasaki station.
Hotels around Nagasaki station
Other Tourist Attractions in Nagasaki Prefecture
Nagasaki city
Other areas in Nagasaki Prefecture