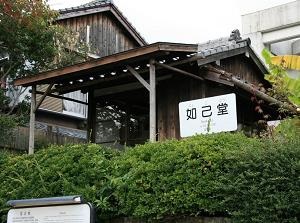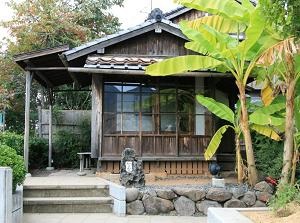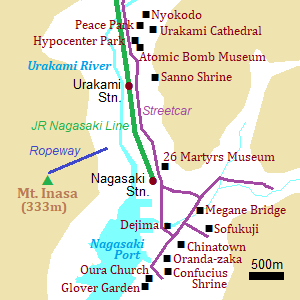 Nyokodo is a small hermitage, and is located about 0.4 km northeast of Peace Park.
Nagai Takashi (1908-1951) was a doctor of radiotherapy in Nagasaki Medical University (current Faculty of Medicine, Nagasaki University).
He was also a Christian.
His long radiation research led him to leukemia.
In June 1945, he was told to be within 3 months to live.
On August 9, A-bomb was dropped in Nagasaki.
He was working in the medical office in Nagasaki Medical University at that time.
The hypocenter was only 0.7 km from there, and he was also seriously injured to his head.
He came back his home.
His wife had become only her bones.
But he was strong.
He had worked as a doctor for the injured people for two months.
He continued to live, and gave medical treatment to many A-bomb survivors.
Then he was promoted to the professor.
But he had to confine to bed in June, 1946.
The people in Urakami built a small hermitage for him in 1948.
It was "Nyokodo".
And in this hermitage, he wrote many books about his A-bomb experience with a Christian's eye, and the books became bestsellers.
To this hermitage, Emperor Showa, the envoy of the Pope, Helen Keller, etc. came to see him.
But he died at the age of 43 in 1951.
"Nyoko" means "as myself".
Dr. Nagai gave the meaning of the words "Love your neighbour as yourself." from the Bible to this hermitage.
The hermitage has been preserved, and there is the museum about his life by the hermitage.
How to get here
By street car with route No. 1 or 3, get off at Ohashi stop.
About 7 minutes walk from there. (About 400 meters)
Other Tourist Attractions in Nagasaki Prefecture
Nagasaki city
Other areas in Nagasaki Prefecture