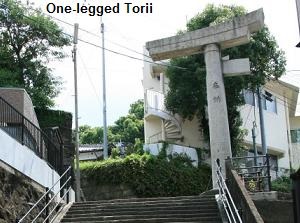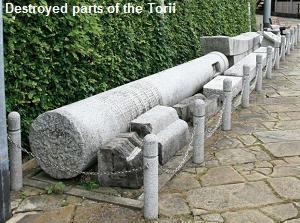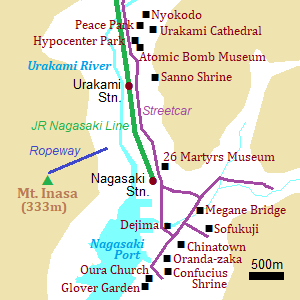 Sanno Shrine is a Shinto shrine located about 2 km north of JR Nagasaki station.
The shrine was founded by Matsudaira Nobutsuna (1596-1662) in 1638.
A civil war was occured in Shimabara located about 50 km east of Nagasaki in the year.
Therefore, he came to Nagasaki as the general of government forces to suppress the war from Edo (Tokyo) area.
When he passed by this area, he found that the scenery was similar to Mount Hiei near Kyoto.
So he recommended the local governor in Nagasaki to built a branch shrine of Hiyoshi-Taisha shrine (San'no Gongen as the nickname) in Mount Hiei.
Then this shrine was founded.
On August 9th, 1945, the second A-bomb was dropped and exploded over the point about 0.8 km northwest of this shrine.
The unimaginable heat blast destroyed this shrine in a moment.
There were four Torii gates around the shrine.
Miraculously, the first and the second Torii gates remained.
The first Torii was destoyed by vehicle accident in 1962, and had been removal.
The second Torii had been destroyed half by the blast of A-bomb.
But it is standing on its only pillar.
The people in Nagasaki call this gate "One-legged Torii".
And the remains of the destroyed half part are displayed near this Torii.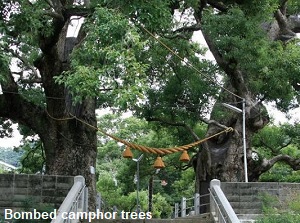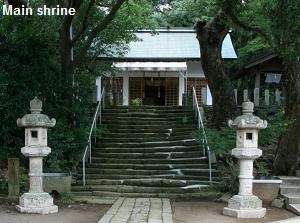 Near the entrance to the main shrine, there are two great camphor trees.
It is said that they are 400 to 500 years old.
That means these trees were exposed to the blast of A-bomb.
At that time, more than the one-third parts of the trees were blown and the remaining parts had been burned black.
But after two years, their unbelievable life force created the new leaf buds.
Nagasaki citizens hugged these trees, and shared the enjoyment of life.
In addition, the investigation in 1995 revealed that mutation had occured in the trees by strong radiation of A-bomb.
These trees are designated as national natural treasures.
How to get here
By street car with route No. 1 or 3, get off at Urakami-ekimae or Daigaku-byoin stop.
Then about 5 minutes walk.
Hotels around Sanno Shrine
Other Tourist Attractions in Nagasaki Prefecture
Nagasaki city
Other areas in Nagasaki Prefecture