Oura Catholic Church [
大浦天主堂

]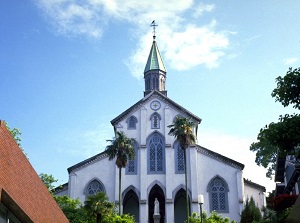 Oura Catholic Church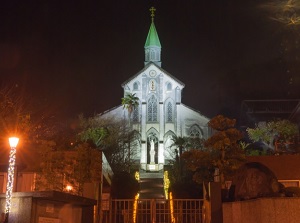 Oura Catholic Church at night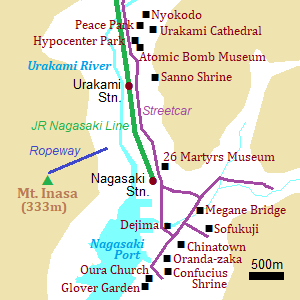 Oura Catholic Church is located about 2.5 km south of JR Nagasaki station.
In Japanese, it is called "Ôura Tenshudô".
It is on a hill and there is Glover Garden to the west of this church.
The church was designed by two French priests, Louis Furet and Bernard Petitjean.
And it was built by Japanese carpenters in 1864.
The original church was baroque style mixed with Gothic style, but major remodeling and expansion was carried out from 1875 to 1879.
Fortunately, this church was not badly damaged by A-bomb in 1945, and the repair was completed in 1952.
It is the oldest existing Christian building in Japan, and has been designated as a national treasure since 1953.
And it was designated a UNESCO World Heritage site in 2018.
Toyotomi Hideyoshi (1537-1598) was a strong warlord and unified Japan after a century of war.
In 1596, he banned Christianity.
He ordered to catch Franciscan monks and the Japanese believers because they had been very active in Japan.
26 Christians were caught in Kyoto and Osaka, and they were sent to Nagasaki.
They were put to death at Nishizaka hill near current Nagasaki station.
For the historical fact, this church faces the hill to offer the 26 saints (current 26 Martyrs Museum near Nagasaki station).
This church was opened for French people staying in Nagasaki in 1865.
Soon after the open, some Japanese people came to see the Father.
They confessed that they had been hidden Christians, although Christianity had been banned.
The Father was surprised that hidden Japanese Christians had been alive for over 250 years since Anti-Christian Edicts in 1612.
This news was reported to Rome, then Pope Pius IX (1792-1878) was deeply moved and said that it was the Oriental miracle.
You pay to enter the church.
Because it is the place for prayer, you must keep quiet.
And photography and video recording are prohibited inside the church.
How to get here
By street car with route No. 5, get off at Oura-Tenshudo stop.
Hotels around Oura Catholic Church
Other Tourist Attractions in Nagasaki Prefecture
Nagasaki city
Other areas in Nagasaki Prefecture