Oranda-zaka sloping road [
オランダ坂

]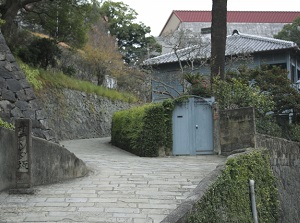 Oranda-zaka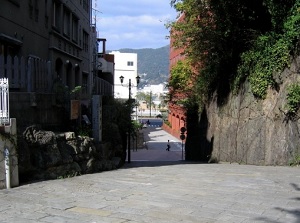 Oranda-zaka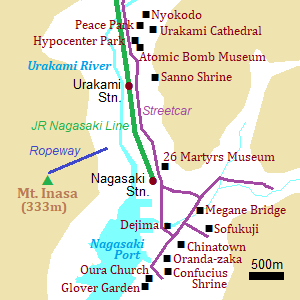 Oranda-zaka is a sloping road from near the seaside street to the hills.
It is located about 0.5 km southwest of Shinchi Chinatown, and the road is about 300 meters long.
On the hill, there were the residences of foreigners in the late 19th century.
So the foreiners had passed through this sloping road between the residences and the port.
Since the 17th century, Dutch merchants had lived in Nagasaki for a long time.
After the national isolation in 1859, many Western foreigners came to Nagasaki from Britain, France, America, Russia, etc.
But Nagasaki citizens were unable to recognized their countries.
The Netherlands is called "Oranda" in Japanese.
The word came from "Holland" in English.
So Nagasaki citizens called all Western people "Oranda-jin" (Dutchman) with no distinction.
And they called this slope "Oranda-zaka" (Dutch slope).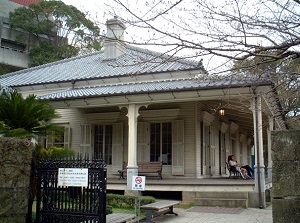 Former Russian Consulate near Oranda-zaka
Photo by Railstation.net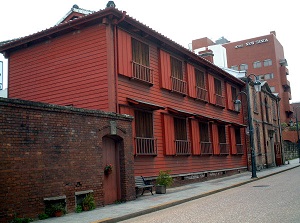 House for British Consular officer
Photo by Railstation.net
Around the end of Oranda-zaka, there are several Western-style residences built in the 1890s.
We can feel the atmosphare of former foreign settlement.
How to get here
By street car with route No 5, get off at Shimin-byoin-mae stop.
Hotels around Oranda-zaka
Other Tourist Attractions in Nagasaki Prefecture
Nagasaki city
Other areas in Nagasaki Prefecture