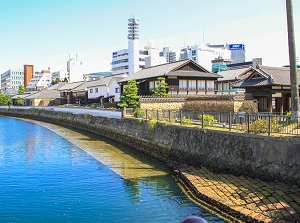 Restored Dejima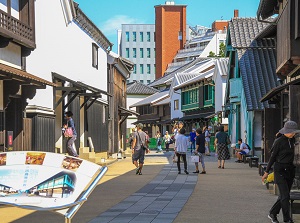 Main street in Dejima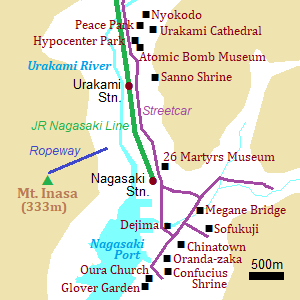 Dejima was an artificial island and Japanese government ordered the foreigners to live in the island from 1636 to 1859.
The area of the island is located about 1 km south of JR Nagasaki station.
The island was constructed around 1634.
Edo government had started having an isolationist policy, and this island was for managing Portuguese who had come to do missionary work and trading.
The island was about 200 meters from east to west and about 70 meters from north to south, and the shape was curved a little like a Japanese fan.
A bridge to the mainland was set up on the north coast and the people crossing the bridge were checked up.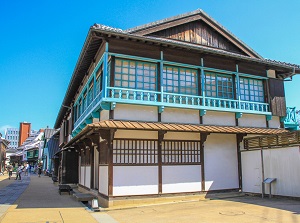 Directore's Residence in Dejima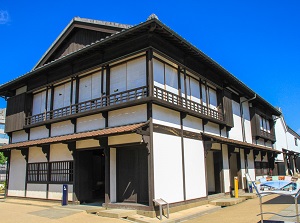 Captain's House in Dejima
In 1639, Edo government banished the Portuguese because of the ban on Christianity.
Instead, the office of Dutch East India Company which had been set up in Hirado was moved to this island.
And here had been the only foreign settlement in Japan until 1850s.
In the meantime, Japanese scientists knew the advanced Western science such as astronomy and medicine under national isolation.
After the end of feudal Edo government, the island for isolation had lost its original meaning.
So, the sea around the island was landfilled in the 1890s, then this site became a part of the mainland.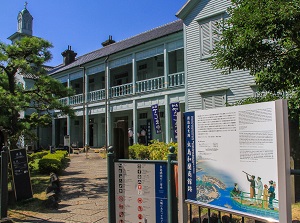 Dutch trading house in Dejima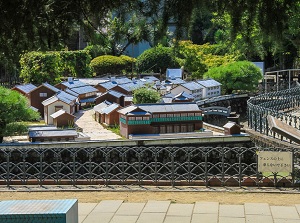 Miniature of Dejima
Since 1990s, Nagasaki city is promoting the restoration of Dejima.
Now some buildings have been restored as museums on the site.
How to get here
By street car with route No. 1, get off at Dejima stop.
Other Tourist Attractions in Nagasaki Prefecture
Nagasaki city
Other areas in Nagasaki Prefecture